A Northern California couple was ordered by a judge to pay nearly $600,000 for uprooting a 200-year-old oak tree on their property.
The oak tree, which was reportedly 180 years old, was protected under a conservation easement, reported the Santa Rosa Press Democrat.
A neighbor in 2014 said they saw heavy machinery and digging on the property of Peter and Toni Thompson, CBS San Francisco reported. The property was reportedly under the easement.
Couple must pay nearly $600G for removing oak tree from their property, judge ruleshttps://t.co/tRfRtnEtun

— 😊Rob Christie😊 (@RobChristie11) May 9, 2019
Court documents said that a Sonoma Land Trust official discovered about 3,000 cubic yards of dirt and rock were removed along with the oak tree. That tree and about a dozen others died, the CBS report noted.
The Sonoma County Superior Judge agreed with the Sonoma Land Trust, saying the Thompsons violated the deal, Fox News reported. They were fined about $586,000.
In a judgment last week, Sonoma County Superior Court Judge Patrick Broderick said the couple engaged in "knowing and intentional" violations of a legally binding conservation deal, AP reported. He also said the couple had "demonstrated an arrogance and complete disregard for the mandatory terms of the easement."
The Thompsons decided to sell their property for $8.45 million after the ruling, and they are now seeking a new trial.
"There are so many personal tragic issues throughout this case that were very painful to deal with and actually really affected the ability to tell our side of the story," Peter Thompson told The Associated Press. "In our opinion, there's a lot of evidence that our side of the story really didn't get a chance to explain."
Woman Sued Over Flintstones Home
Just miles to the south of the Thompsons' property, the owner of a "Flintstones" house—a home that was designed to look like the famed cartoon—was sued by the city of Hillsborough, California.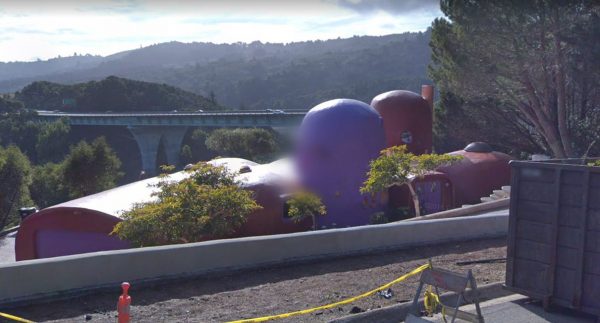 The house is owned by Florence Fang, a media mogul who founded the San Francisco Examiner and who is in her 80s, and she bought the home in 2017 for $2.8 million, reported the San Francisco Chronicle.
The home features dinosaurs, Flintstones characters, and a sign with the words, "Yabba Dabba Doo." It's located in an affluent part of San Mateo County in the San Francisco Bay Area.
The city is suing her "over gaudy outdoor decorations and other work, including a herd of large dinosaur sculptures" and the sign, the Chronicle reported.
In a statement to USA Today, Fang's grandson, Sean, said the family will fight to save the home.
Owner of California 'Flintstones house' vows to fight to save it: 'I think the dinosaurs are beautiful,' says son https://t.co/ZktIdSt3ye pic.twitter.com/aDtAao0P7T

— Newsweek (@Newsweek) March 19, 2019
"I think the dinosaurs are beautiful. They make everyone smile and should stay," Sean Fang said.