Fourteen people are dead after a plane leaving Las Vegas crashed in northern Mexico, according to reports.
The plane was heading from Las Vegas to Monterrey, Mexico, Reuters reported.
The wreckage of the plane has been found, said a government official. Local news outlets have reported that 11 passengers and three crew members died in the crash.
Encuentran restos de un avión en Coahuila

➡ https://t.co/u9E7ZoaAR0 pic.twitter.com/GBW9M7Egus

— Telediario (@telediariomty) May 6, 2019
Fernando Orta of Coahuila state's emergency services department told Reuters that the plane was located 129 miles northwest of Monclova. It went missing about 90 minutes after departing Vegas on May 5.
"The land is rather mountainous … so they're going to take a while longer to arrive," Orta said, adding that officials have not yet arrived on the scene of the crash.
The passengers, who were between the ages of 19 and 57, were reportedly in Las Vegas to watch the boxers Canelo Alvarez and Daniel Jacobs fight. It is believed that the victims are Mexican nationals.
#ULTIMAHORA
Circula en redes imagen del accidente del avión Bombardier Challenger 601, matrícula N601VH, cerca de #Monclova, reportado como desaparecido desde el domingo y cubría la ruta Las Vegas-Monterrey. pic.twitter.com/HxNlQZfA3U

— César Cepeda (@cesarmty) May 6, 2019
Coahuila Governor Miguel Riquelme said on May 6 that a search operation for the plane was ordered, saying "We still do not know what happened," KTNV reported.
Photos of what appears to be the wreckage were posted on social media on May 6.
According to CNN Wire, reports said the plane model was the Canadair Challenger 600, and it has a total capacity of up to 20 people.
Coahuila: gobernador Miguel Riquelme habla de la búsqueda de la aeronave. pic.twitter.com/YnvQl6Trqi

— Azteca Noticias (@AztecaNoticias) May 6, 2019
FlightAware said the plane went to 37,000 feet for a while before it went up and down before climbing to 40,000 feet before it wasn't tracked any longer, it was reported.
According to the Daily Mail, local reports said a strong storm was in the area.
A Radio Centro correspondent stated: "The Secretariat of Public Security of Coahuila and authorities of Nuevo Leon have begun searches for the private Jet Bombardier Challenger 601 plane, registration N601VH, that flew from Las Vegas to Monterrey, with which contact was lost on Sunday afternoon."
Plane Catches on Fire in Russia
Reports of the Mexican crash come just a day after Russian airliner burst into flames while making an emergency landing at Moscow's Sheremetyevo airport Sunday evening, and at least 40 people died, officials said, as reported by The Associated Press.

The Sukhoi SSJ100 operated by national airline Aeroflot had 73 passengers and five crew members on board when it touched down and sped down a runway spewing huge flames and black smoke.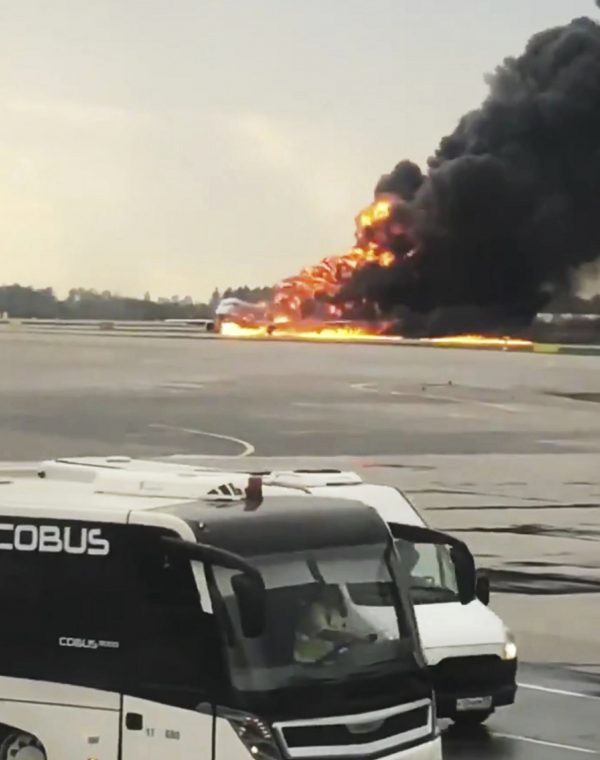 Elena Markovskaya, a spokeswoman for Russia's Investigative Committee, said early Monday that 41 people were killed. But Health Minister Veronika Skvortsova said later that 38 survived, implying the death toll was 40.
The victims included one member of the crew and at least two teenagers, according to the Investigative Committee.
Video showed desperate passengers leaping out of the plane onto inflatable evacuation slides and staggering across the airport's tarmac and grass, some holding luggage.
The Associated Press contributed to this story.