TV network executives are scrambling to solve the NFL ratings decline and are looking to possibly cut games on Thursday to prevent "over-saturation."
According to Sports Business Journal, there are talks to cut "Thursday Night Football" from 18 games a season to eight games. The report states there is a plan to pull games played in the UK back to 1 p.m. ET, or 6 p.m. London time.
"Ten years ago, the NFL had 32 game windows through week six," the publication said. "This year, it is up to 39, a 22 percent increase. It's even more crowded in college, where the 2007 windows to this point added up to 105. This year, it's at 179, up a whopping 71 percent."
"So far this season, fans have been able to watch games on Thursday nights, Sunday mornings, Sunday afternoons, Sunday nights and Monday nights. Later in the season, games will be available on Saturdays," it added.
Some executives haven't ever warmed to 18 Thursday games on the NFL Network, CBS, and NBC—after the format was expanded from eight to 18 several years ago.
"Some sponsors informally have lobbied the NFL to move back to an eight-game, NFL Network-only package that would return 10 games to the Sunday afternoon packages," it stated.
Mike Mulvihill, a Fox Sports vice president, was quoted in the report as saying that there aren't too many NFL games on TV—but there is too much football period—which includes college football.
"The rise in football availability is pretty dramatic," Mulvihill told the publication. "This is what drives fragmentation in every area of television. … You can argue whether there's greater or lesser interest in the game of football than there was ten years ago. But clearly, whatever that interest is, it's being spread out over quite a few more windows than it was ten years ago."
The report noted a 4 percent decline in "Sunday Night Football" viewership through Week 6 of the season. That might not sound significant, but it's down 21 percent from two seasons ago.
But NFL games still dominate TV ratings despite the downturn, one executive noted.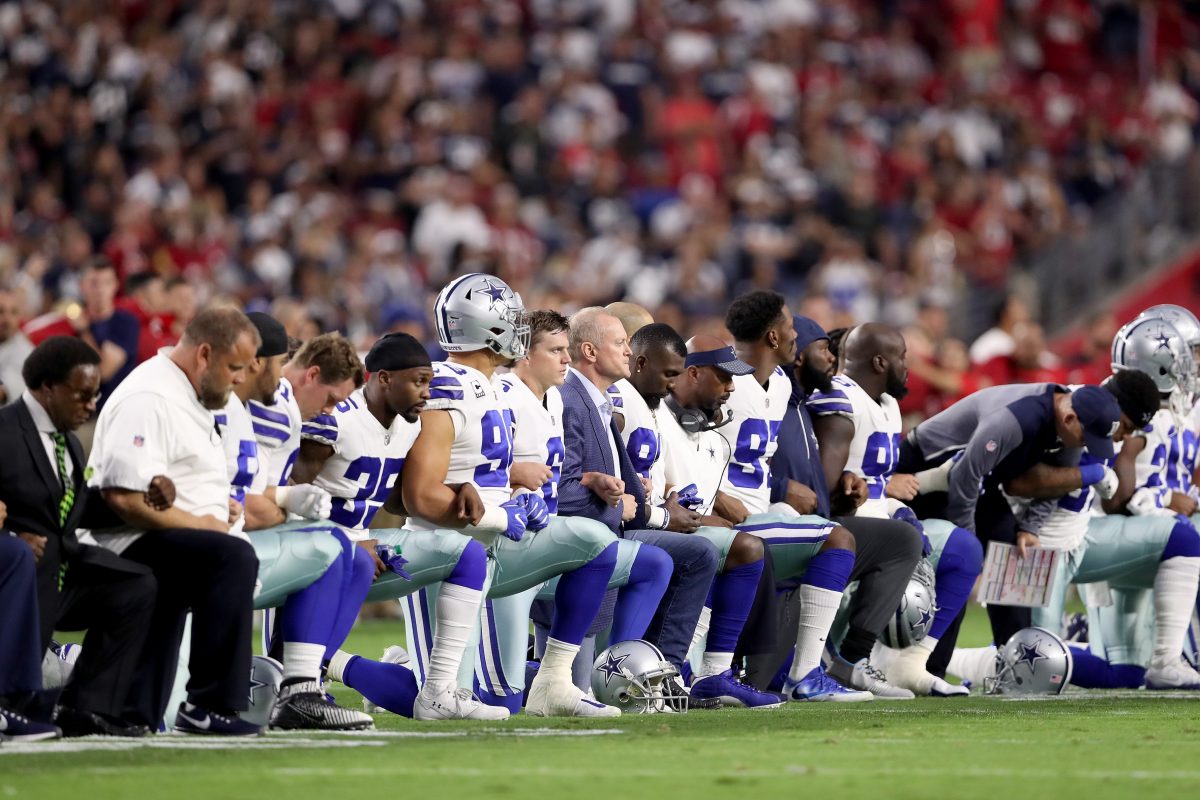 "What's clear across the board is that the NFL remains the strongest property in all of television," CBS Sports Chairman Sean McManus said. "As we move forward, we will continue to work with the league to make the television product as compelling as possible and to grow our audience."
CBS Sports' Sunday afternoon games have dropped 14 percent from last year. They're down 20 percent from two years ago, SBJ reported.
FOX CEO James Murdoch, meanwhile, offered his theory on the NFL ratings drop, saying it's also due to over-saturation on the market. He also noted the criticism of the Thursday night format.
"There's a question mark for the NFL, which is just to think hard about how they're licensing," Murdoch said, according to ProFootballTalk. "So I do think the proliferation of Thursday availability — and the proliferation of football generally — does mean that you're asking a lot from customers to watch Thursday. And then they watch a lot more college football game on Saturdays, and then on Sundays, and then on Monday Night Football, etc. It's a lot. So I do think that preserving the scarcity value of those events and that audience is something that is worth thinking about."
But to many, the elephant in the room as to the TV ratings decline involves the trend of protests during the national anthem, which have turned off many fans. None of the executives touched the protests in either the ProFootballTalk report or the SBJ report—instead offering the over-saturation theory.