China has managed to obtain extensive influence in India, including in the South Asian nation's film industry, universities, media, and its tech industry, according to a report by an Indian think tank.
In the years following World War II, the Chinese Communist Party (CCP) has utilized journalists and members of other organizations, especially those with Marxist tendencies, to proliferate the CCP's influence in India, said the Law and Society Alliance (LSA) report released on Friday.
The 76-page report provides details on how Beijing has used soft power to make inroads into Indian civil society, academia, politics, and a number of industries such as the media, entertainment, and the technology sector.
"China, as a manipulative adversary, has effectively been targeting the bright impressionable minds, the tech savvy youth, the opinion makers and the intelligentsia present in India, and thereby the future of India in totality. This needs to be taken into due cognisance along with the attached economic and strategic compulsions," said the report in its summary.
Examples of Beijing's influence operations aimed at tech-savvy youths include the use of news aggregation applications such as Dailyhunt and NewsDog. The Indian Army ended up prohibiting its soldiers from using Dailyhunt over suspicions of app data misuse while NewsDog was one of 59 mobile apps banned by the Indian government in June 2020, because it was deemed a security threat.
LSA chairman N. C. Bipindra told The Epoch Times in an email that the discrepancy between the pro-China narrative in Indian media outlets and public sentiment in India against China prompted LSA members to work on the report.
Indians have become increasingly hostile towards China since May 2020, when the Sino–Indian border conflict resumed after decades of truce. A June 2020 survey found that 97 percent of Indians would not buy Chinese goods. An August 2020 "mood of the nation" survey revealed that 64 percent of Indians did not trust China.
Bipindra said that the LSA intended the report to be "a wake-up call for Indians."
"The Chinese Communist Party (CCP) can never be a friend of democratic nations and will take all overt and covert actions to threaten the national security of those nations that it deems a threat to its rise," said Bipindra who is also a defense and strategic affairs analyst and editor at the news portal Defence Capital.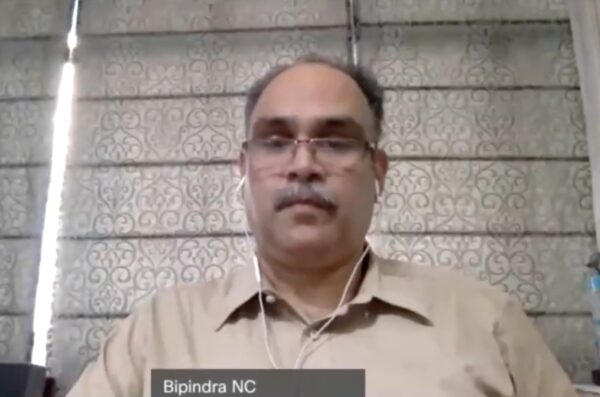 The report also includes details of the CCP's influence in India's political system where the Communist Party of India-Marxist (CPI-M)—a party that has CCP funding—has "aggressively questioned" the Indian government's foreign policies on China and accused New Delhi of succumbing to the United States.
The Communist Party of India-Marxist also defended the CCP from facing accountability over the CCP virus, commonly known as the novel coronavirus, said the report.
At the report launch event, Ilshat Kokbore, director of the Chinese Affairs Department with the World Uyghur Congress in New York, said some Indians don't believe China is strong enough to be a threat to India. But he advised them to read the report, "you will find how deep they [China] have infiltrated Indian society."
In his view, China will try to take Taiwan and if it happens, China will kick the United States out of the Pacific, and smaller Asian countries will mostly take China's side, according to Kokbore.
"India is under imminent direct threat by Chinese communists, together with people in Uyghur, Tibet, Hong Kong, and even in Burma," he said.
Kalden Tsomo, U.N. advocacy officer with the Tibet Bureau in Switzerland, said that the CCP has "mastered the art of propaganda and misinformation."
"Therefore, collective and concerted efforts from all stakeholders in countering Beijing's long arm is crucial, more than ever. We cannot wait for Beijing to change its policy any longer," she said.