Report: Google.cn's Self-Censorship
February 8, 2006 12:00 am Last Updated: February 8, 2006 12:00 am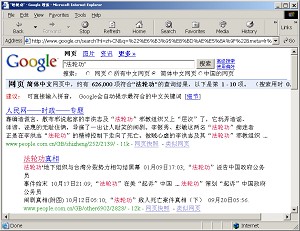 Various searches were recently performed comparing google.com and its communist version, google.cn. The tests occurred between Jan 25 and Feb 3. It was determined that google.cn is using two blacklists to censor results. Additionally, both www.google.com when accessed from China and www.google.cn, include more web pages from China in their search results. Combined with Google's best search ranking technologies, google.cn has become a crown-jewel in the Party's propaganda system.
1. Impact on User Results
On issues that are highly sensitive to the CCP regime, a search within "all sites" will be silently limited to websites inside China. This ensures that results will closely follow the Party's line.
As an example, search results for the Chinese word "Falun Gong" on both google.com and google.cn return dramatically different results. Half of the search results from google.com are websites outside of China ("overseas") and are supportive of Falun Gong. All search results from google.cn are filled with slander.
| | |
| --- | --- |
| Results from google.cn (Dynamic Internet Technology Inc.) | Results from google.com (Dynamic Internet Technology Inc.) |
For less politically sensitive issues, China applies subtle alterations when compared to overseas websites. In such cases, google.cn only removes results from blacklisted websites, which leaves more web pages containing the CCP's propaganda.
One example is the search "Iraq+America" (in Chinese characters). News reports returned on google.cn emphasize how little support President Bush received in the US, Iraq and other nations, and the hypocrisy of the US Army's POW torture case.
Besides screening search results, Google has also added more page results from websites in China to google.cn and www.google.com, when accessed from China. Those websites in China usually follow government propaganda very closely. Because of the ranking algorithm, this larger pool of well inter-connected Chinese web pages will "dilute" overseas web pages, eventually lowering their ranking.
For example, we found "Iraq+America" returned 1,950,000 results from www.google.com, when accessed from the US. 4,960,000 results were observed from www.google.com when accessed from China (through a proxy in China), and 4,850,000 results from google.cn.
Google.cn also implemented various redirectors to silently limit user searches to web pages in China, even though the user originally chose the "all pages" default. This happens when "highly sensitive" keywords are entered.
Image and news searches are constrained by the same search system.
2. Impact on the Free Flow of Information
According to the recent "Statistical Reports on Internet Development in China" by CNNIC, the search engine is one of the three "most used Internet services/functions" and a search engine is the most important way to find a new website with information you are looking for.
With the explosion of online information, search engines have become another form of media. The case of google.cn is the latest example of how new technologies can be used to consolidate the communist regime's power.
By removing contents from blacklisted websites on google.cn, most users who are not technically savvy will have a difficult time finding such websites through a search engine, much less finding ways to access them, which is also blocked by the regime.
3. Blacklist Discovered
When a keyword is blacklisted, google.cn silently limits search results to websites in mainland China without obvious notice . Search results related to those keywords from overseas websites, usually show dramatically different results compared to news in mainland China. Those keywords include "sensitive issues" like Falun Gong, Nine Commentaries , June 4th, etc.
Blacklisted keywords found can be grouped into the following (translation only original words are in Chinese): 1) Falun Gong, Falun Dafa (alternate name for Falun Gong), clarify the truth (Falun Gong's effort to expose the persecution in China), self-immolation, (one of the most sinister efforts the Chinese regime made to defame Falun Gong), Teacher Li, Li Hongzhi, Master Li, (various titles and the name of the founder of Falun Gong) 2) "Nine Commentaries" (nine articles published by www.theepochtimes.com that present the true history of the Chinese Communist Party), Renounce Chinese Communist Party membership. 3) Voice of America (voa), Radio Free Asia (rfa),and other names of oversea news websites. 4) Tiananmen or June 4th and related keywords. 5) Jiang Zemin (former president of China), alternative names for Jiang Zemin, some of which are highly derogatory, name of his son, name of his cousin. 6) Taishi villiage, Dongzhou (recent Party massacre of farmers), Gao ZhiSheng – and other recent "sensitive issues." 7) Dalai (Tibet independence), Chen Shuibian (president of ROC/Taiwan).
Blacklisted websites will never be seen in search results on google.cn. These sites tend to report more on human rights issues in China in the Chinese language.
Websites found on the blacklists:
rfa.org, minghui.ca, minghui.cc, epochtimes.com, dajiyuan.com, kanzhongguo.com, voa.gov, secretchina.com, renminbao.com, peacehall.com, bbc.co.uk, libertytimes.com.tw, hrichina.org, hrw.org, falundafa.org, and chinese.faluninfo.net
When search results are censored, users won't see any warning unless they scroll down to the bottom of the search results page. The warning message reads in Chinese: "According to local law and policy, some search results are not displayed." There is also no warning indicating that google.cn included additional Party propaganda WebPages.
Appendix: Algorithm that can be used to discover if a keyword or website is blacklisted
To determine if a website is blacklisted, you can search "China" in Chinese (or anything like "test"). If the site is on the black list, no results will be displayed, and a warning message will show up. For example, enter: http://www.google.cn/search?hl=zh-CN&q=%E4%B8%AD%E5%9B%BD+site%3A.epochtimes.com&meta=lr%3Dlang_zh-CN
To identify blacklisted keywords, one can also go to www.google.cn and search a keyword using the default "all websites." If google.cn resets the default limitation to "pages in China," the keyword is blacklisted.
Dynamic Internet Technology Inc. can be contacted by email at: [email protected]