A former police officer accused of murder was convicted sex offender Jeffrey Epstein's cellmate at the Manhattan Metropolitan Correctional Center before the disgraced millionaire's apparent first suicide attempt last month, according to a report.
Nicholas Tartaglione, who worked as an officer in New York's Westchester County, was charged in 2016 in the deaths of four men, stemming from a cocaine conspiracy case.
E.O. Young, the national president of the Council of Prison Locals C-33, told the Washington Post that Tartaglione, 51, was housed at the federal jail with Epstein, 66, after he was arrested on sex trafficking charges.
This should be of more than just casual interest to investigators…https://t.co/mlISrjE2VI

— Himmmm (@TheHimmmm) August 10, 2019
Tartaglione was transferred out of the jail's Special Housing Unit, a heavily secured area of the facility, sometime before Epstein died on Aug. 10. It's unclear when he was transferred or why, the Post reported.
Young, however, claimed that Epstein feared Tartaglione and was allegedly trying to get away from him. He also believed that Epstein had another cellmate before he was taken off suicide watch.
"We can't ever stop anyone who is persistent on killing themselves," Young explained to the paper. "The only thing the bureau can do is delay that."
However, after the first apparent suicide attempt in late July, Tartaglione denied assaulting Epstein in his jail cell through his lawyer.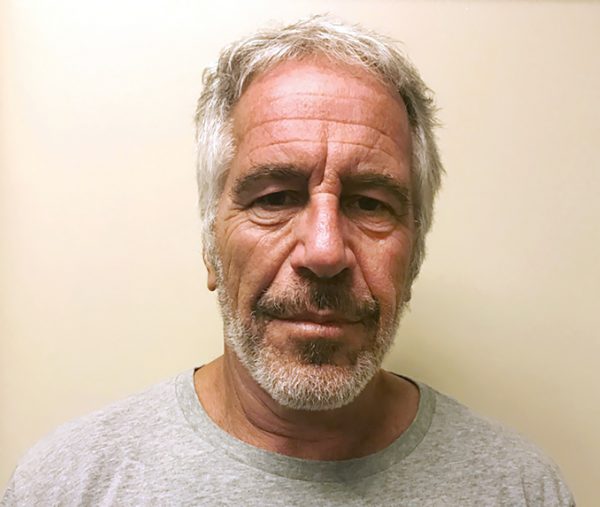 "Any suggestion that Mr. Tartaglione assaulted anyone is a complete fabrication," the lawyer, Bruce Barket, said in a statement to LoHud.com. "This story is being leaked to retaliate against Mr. Tartaglione for complaining to the court about the deplorable conditions at the MCC. We made those complaints on Monday in open court. We warned the judge that officials at the jail would retaliate against Nick because we have been exposing the inhumane conditions at the facility."
Barket was quoted as saying by the publication that he and Epstein got along fine, saying the two complained about rodents, flooding, and food in the Manhattan jail.
"They became more than cordial," Barket also told the New York Daily News in July. "In the short time they were together, they became friends."

Barket told Fox5 at the time that the MCC's conditions are "absolutely horrible," suggesting that it might be the reason why Epstein allegedly tried to kill himself.
"I've been practicing law for over 30 years and had an opportunity to be in a number of different jails and prisons around the country and, in fact, around the world. The Metropolitan Correctional Center where Jeffery Epstein and Nick Tartaglione are kept is the worst facility I've ever been to," he said.
He said that transitioning from a multi-millionaire lifestyle to the MCC might be a shock.
"The facility is deplorable. It's insect-infested. It's rodent-infested. The food is barely edible. The medical care is nonexistent. Mail is not delivered," Barket said. "I think when Mr. Epstein first got there it was a bit of a shell-shock for him."
Attorney General William Barr said that the U.S. Inspector General's office will open an investigation "into the circumstances of Mr. Epstein's death."
"I was appalled to learn that Jeffrey Epstein was found dead early this morning from an apparent suicide while in federal custody," Barr said in a statement. "Mr. Epstein's death raises serious questions that must be answered."
Autopsy
The New York City's medical examiner office completed an autopsy and said his cause of death was "pending further information at this time."

In a brief statement on the night of Aug. 11, Barbara Sampson, the city's chief medical examiner, said that Dr. Michael Baden observed the autopsy examination, reported the New York Daily News. It was done at the request of Epstein's representatives.
"This is routine practice," Sampson said.
"My office defers to the involved law enforcement agencies regarding other investigations around his death," the examiner added. "Inquiries regarding the determination of the Chief Medical Examiner should be directed towards my office."
The statement didn't say when it would be able to determine Epstein's official cause of death.