Police in the Dominican Republic are investigating whether the spate of American tourist deaths was triggered by counterfeit alcohol, according to the New York Post.
Officials are trying to figure out who supplied the liquor that the victims drank in hotel rooms and resorts before dying. Sources told the paper that they're trying to determine if there were any harmful chemicals in the drinks.
The FBI is also reportedly aiding in the investigation and will obtain blood samples from the deceased American tourists.
Representatives from the Hard Rock Hotel & Casino and Bahia Principe—where the tourists exhibited signs of a mysterious illness before their deaths—have said the incidents are isolated.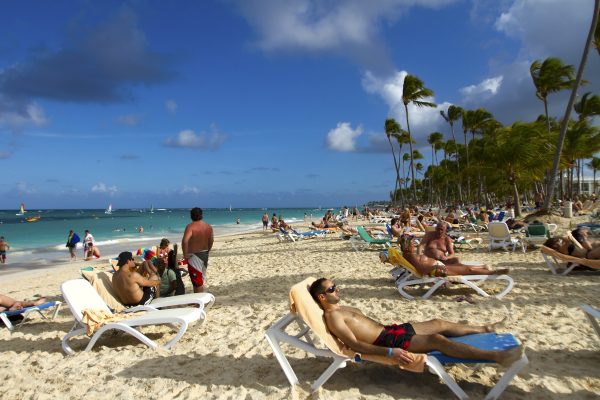 Some of the tourists drank from the hotel minibar before they got sick, according to reports.
So far, in 2019, five Americans died under mysterious circumstances, while family members of two tourists who died in 2018 have cast doubt on the official causes of death given for their loved ones.
Other Americans have reported getting sick after drinking from the minibar at the hotels, including a Brooklyn woman who claimed she vomited blood after drinking 7UP that tasted like bleach.
"My mouth was on fire," Awilda Montes told CBS New York last week. "When I spit it out in bathroom sink it was blood. I was just irrigating my mouth."
Also, the New York Post sent a reporter to one of the resorts and they said the vodka had a "strange, potent smell resembling pure alcohol."
Lawrence Kobilinsky, a forensic science professor at John Jay College of Criminal Justice in Manhattan, said that the reported symptoms were consistent with methanol or pesticide poisoning. Methanol isn't safe for human consumption.
"Adulterated alcohol is usually methanol added to alcohol or just plain methanol, which is very, very toxic," Kobilinsky said. "It looks to me, from what I've heard and read, is that something was added to the drinks or bottles in those little refrigerators."
The expert said that in alcohol for human consumption, "there should be no methanol."
"If it's there, it means it's been adulterated or put there deliberately," he told the Post.
The troubling pattern of deaths made headlines after Maryland couple Edward Holmes, 63, and Cynthia Day, 49, was found dead at the Bahia Principe La Romana on May 30. They had checked in on the same day that 41-year-old Pennsylvania woman Miranda Schaup-Werner collapsed and died after drinking from the minibar at the same resort chain on May 25, the New York Post reported.
Miranda Schaup-Werner, 41, died in the Dominican Republic just five days before Nathaniel Holmes, 63, and Cynthia Day, 50, were found dead in their hotel on the same resort. https://t.co/UlLwfBAZrt

— NBCWashington (@nbcwashington) June 5, 2019
On June 9, the family of a California man Robert Wallace said he died earlier this year after drinking from the minibar at the Hard Rock Hotel & Casino resort in Punta Cana. They described the 67-year-old in relatively good health.
Later, the family of American David Harrison, who also died of a pulmonary edema and respiratory failure, spoke out about his death. He died last July.
"I no longer feel like my husband died of natural causes," said his widow, Dawn McCoy, according to the Post.
California man died in April at Dominican Republic resort after drink from hotel room minibar, family sayshttps://t.co/Tp1jeXgzrs

— FOX 29 (@FOX29philly) June 10, 2019
Several other families of Americans also reported unusual deaths while visiting the country.
The latest report came from the family of New York woman Leyla Cox, who said on June 13 that she mysteriously died in her hotel room last week. They didn't say where she was staying, the Post reported.