Charlie Gard, the terminally British boy who became the subject of an international legal battle before his death last week, will be buried with his beloved toys, according to reports.
Charlie, at 11 months of age, died on Friday after suffering from a rare genetic condition known as mitochondrial DNA depletion syndrome, which causes progressive brain damage and muscle failure.
His parents had sought to take him to the United States for a type of experimental treatment.

Family spokeswoman Alison Smith-Squire told The Sun: "They haven't finalized any plans yet, but they have decided Charlie will be buried with his beloved toy monkeys."
His parents, Chris Gard and Connie Yates, wanted to have him treated via nucleoside bypass therapy, but specialists at Great Ormond Street Hospital (GOSH) in London, where he was being treated, said the treatment wouldn't help.
Last week, he was taken to a hospice, where his life support was cut off.

"We should be planning Charlie's first birthday, but instead we're planning his funeral," Yates added to The Sun.
After Charlie's death, Pope Francis expressed his condolences, and wrote on Twitter: "I entrust little Charlie to the Father and pray for his parents and all those who loved him."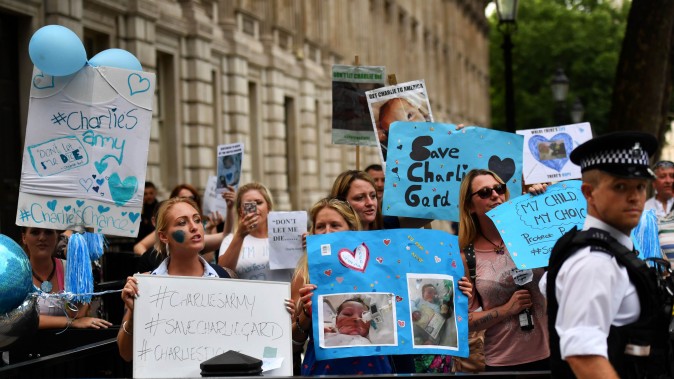 Amid the legal battle—which saw the parents take their son's case to the U.K. High Court, Court of Appeal, and Supreme Court—Pope Francis and President Donald Trump weighed in.  "If we can help little #CharlieGard, as per our friends in the U.K. and the Pope, we would be delighted to do so," Trump tweeted at the time.
Chris Gard gave a speech at the High Court after it was determined the boy would be sent to hospice care a few days before the child died.
"Mummy and Daddy love you so much Charlie, we always have and we always will and we are so sorry that we couldn't save you," he said, according to the Daily Telegraph. "We had the chance but we weren't allowed to give you that chance. Sweet dreams baby. Sleep tight our beautiful little boy."