A French official revealed the likely cause of the fire that ravaged the famed Notre Dame Cathedral in Paris, France.
A police official in France told The Associated Press that an electrical short-circuit likely caused the blaze. The official spoke anonymously and didn't reveal their title.
French investigators still have not searched the rubble and cannot work inside the cathedral due to safety reasons, the official said.
He told AP that the monument is being consolidated with wooden beams to support fragile walls that were damaged in the blaze.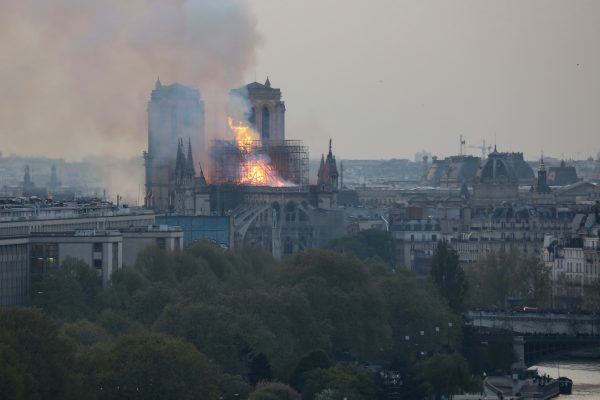 On April 18, workers rushed to secure key areas of Notre Dame, including one above its windows, CBS News reported.
Workers were seen using a crane to remove statues so as to reduce the pressure on the cathedral's support walls, the report said. They also were securing the support structure of one of the rose windows with wooden planks.
Paris prosecutor Remy Heitz, earlier this week, said that an investigation into the cause will be "long and complex." French officials have not ruled out arson in the incident.

The catastrophic fire at one of the most well-known religious monuments caused heartbreak across France. Much of the wood and lead roof was burned in the fire, and its famed spire collapsed.
One firefighter was injured in the fire.
Some 50 investigators are involved in the probe, and about 40 people have been questioned so far. They include people who were involved in the restoration of the cathedral, CBS reported.
Billionaires Want to Donate
France's richest man, Bernard Arnault, hit out on Thursday at critics of his rush to donate tens of millions of euros to the restoration of Notre-Dame cathedral, saying he would not benefit from tax breaks and branding the sniping as petty, Reuters reported.

Luxury goods group LVMH, owner of Louis Vuitton fashions and Moet & Chandon champagne, and its founding Arnault family announced a combined $225 million (200 million euros) pledge hours after a fire on Monday ravaged the Paris landmark.
It followed a 100 million euro offer from Arnault's arch-rival Francois-Henri Pinault, the CEO of Gucci-owner Kering, and sparked a frenzy of donations from some of France's top companies that pushed the funds raised to close to 1 billion euros.

But the outpouring also prompted questions from charities, politicians, and commentators about why some corporate donors had offered so much so quickly, including speculation regarding tax break benefits. Some expressed frustration that other disasters had not received similar support.
"It's an empty controversy," Arnault said. "It's pretty dismaying to see that in France you are criticized even for doing something for the general interest."
"My husband and father-in-law are two generous French citizens, who sincerely understand the importance of this spiritual, cultural and historical treasure from Paris to the world," Pinault's wife, actress Salma Hayek, also stated in defending her husband from criticism.
Reuters contributed to this report.