Replace Leak-Prone Pipeline, First Nations Chief Tells Enbridge
National Energy Board announces new rules to strengthen pipeline safety
April 24, 2013 10:17 am Last Updated: April 24, 2013 10:17 am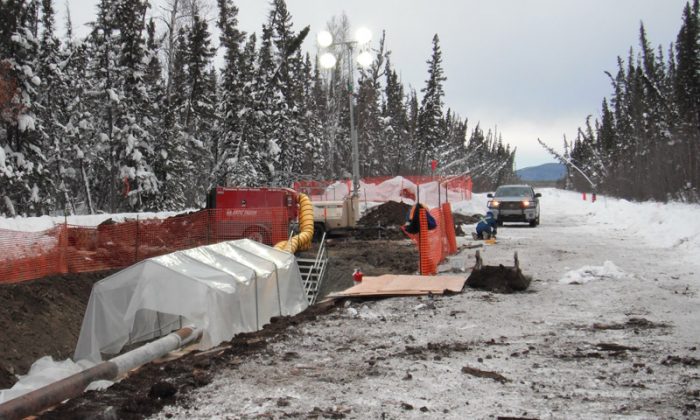 Just as the National Energy Board announces new pipeline regulations to improve safety, a First Nations chief in the Northwest Territories is calling for a pipeline that has been plagued with leaks to be replaced.
The Enbridge-owned Norman Wells Pipeline, an 869 kilometre line that runs from Norman Wells, N.W.T. to northern Alberta, experienced four separate leaks over a two-month period this year.
All the leaks occurred on the same segment of the line, which had a major spill in February 2011. In total nearly 1,000 cubic metres of oil has leaked into the ground since 2011.
Last month the National Energy Board (NEB) ordered Enbridge to conduct both an engineering assessment on the Wrigley to Mackenzie section of the line as well as an assessment of the company's leak detection methods.
But Dehcho First Nations Grand Chief Herb Norwegian says the continuous problems with the aging pipeline point to the need for a complete overhaul rather than short-term fixes.
"It's this little band-aid approach to these very sensitive pipelines, especially at this stage when I imagine the pipeline would be pretty porous and brittle," says Norwegian. "Now what we're waiting for is just a major eruption someplace where this type of oil will leak into the environment."
Norwegian was part of the original consultations when the pipeline was constructed in the 1980s. At that time, he says, the community was assured that if problems emerged, replacing portions of the line would be an option.
"We were always concerned about problems that would arise from pipelines, such as leaks and cracks," he says.
"When we were engaged in these public consultations and the discussions about the construction of the pipeline, many of these issues were raised. A lot of the elders from that time have now passed on but their plight is still very much alive—their concerns are still very much ingrained in the young people that are here today."
The communities living near the pipeline are feeling vulnerable and somewhat angry, says Norwegian, especially in light of the frequent leaks found in recent months.
"Here we have a pipeline that's right next door to our communities and across sensitive trap-line areas. It's something that we really need to be raising concerns over, and that's been the case for the longest time."
"There's a lot of angry people out there that are trying to figure out, you know, when's the next big [pipeline] break, when is this going to happen?"
Enbridge spokesperson Graham White told Northern News Services in late March that contaminated soil from the leaks has been excavated and Enbridge is monitoring the area.
"The factor with this pipe that is very important to consider is the highly sensitive environment that it's in," he said. "For us that's the special consideration of this pipe and it's one of the reasons we are doing such extensive integrity work."
NEB Aims for Prevention, Accountability
Meanwhile, the NEB recently announced new regulations that aim to strengthen requirements for federally regulated pipelines in order to better protect the public, workers, and the environment.
The new rules will require improved management systems for key company programs related to safety, pipeline integrity, security, environmental protection, and emergency management. These management systems are also required be in place throughout each phase of the pipeline lifecycle—from design, materials, construction, operation, and eventually, abandonment.
"These regulations are part of a commitment to continual improvement in terms of safety and environmental outcomes," NEB chair Gaétan Caron said in a statement.
"The Board believes that with proper management, pipeline incidents are preventable. It is on that critical foundation that we have developed a proactive approach that targets the prevention of incidents before they occur."
Some of the new regulations also aim to make senior pipeline company executives more accountable for their systems, the company's safety culture, and outcomes related to public safety and environmental protection.
The changes specify that companies must have an internal reporting policy that will encourage employees to bring forward, without fear of reprisals, the hazards and risks that they may encounter during their work activities.
Further to the new regulations, the NEB will be hosting a Safety Forum on June 5 and 6 in Calgary to discuss management systems, safety culture, and means of measuring performance with industry.