Rep. Velázquez Introduces Waterfront of Tomorrow
July 30, 2013 6:00 pm Last Updated: July 30, 2013 6:03 pm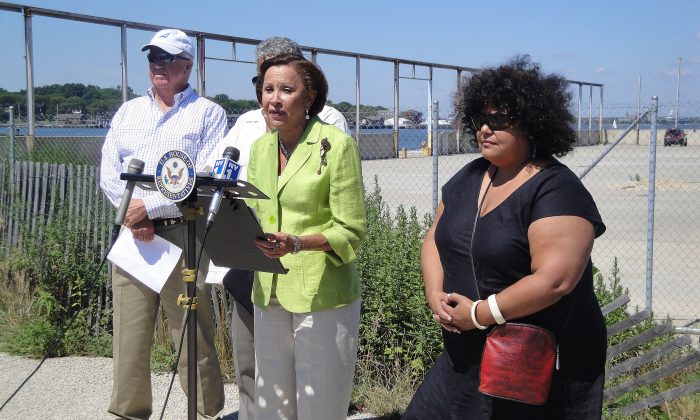 NEW YORK—Protecting vulnerable waterfront communities from flooding and industrial pollution, while encouraging economic growth, is the motivation behind legislation New York Congresswoman Nydia Velázquez introduced July 30. 
The Waterfront of Tomorrow Act would require the Army Corps of Engineers, in consultation with the National Oceanographic and Atmospheric Administration, to provide a report examining ways to improve flood protection around New York City. 
"Making our ports, piers, and coasts more resilient must be a priority," Velázquez said, speaking at a press conference at Brooklyn Bridge Park's Pier 6. 
Velázquez said traditional engineering, such as tide gates, seawalls, and natural designs, are among the options to help reduce the impact of flooding.
The bill would also require the Environmental Protection Agency and the Occupational Safety and Health Administration to evaluate environmental hazards at shorefront industrial facilities that stem from storms, she said.
Eddie Bautista, the executive director of the New York City Environmental Justice Alliance, an organization that works to empower environmentally overburdened communities, said half of the businesses impacted by Sandy along the Brooklyn and Queens waterfronts were industrial businesses, in some cases overflowing contaminants onto the streets and into the water, according to the mayor's office.
"We don't know what people were exposed to," Bautista said. 
"What we do know is that future and severe weather events will only continue and we have to be prepared to respond with a more resilient and adaptable waterfront," he said.
The bill would also require the federal government to make ports and harbors part of the National Freight Policy, which would include environmental impact monitoring. 
"This will mean that as freight moves through New York ports, like the Red Hook Container Terminal, it is done in a way that is not environmental invasive," Velázquez said.
Wright said each year residents and businesses in the New York-New Jersey-Connecticut metropolitan region consume over $85 billion worth of goods that are shipped through the Port of New York and New Jersey.
"We can move cargo with less impact if we invest wisely," Wright said.
Velázquez's bill would also create a new "green port" designation that would dedicate resources to ports that are the most environmentally innovative, and provide grants to businesses that provide jobs and promote environmentally sustainable waterfront areas.
The Federal Sandy Rebuilding Taskforce is expected to issue its report to President Obama on how to rebuild the region this Friday, August 2.
"It is our hope that the congresswoman's bill will further whatever the Federal Sandy Taskforce begins in their recommendations to the Obama administration," Bautista said.
Velázquez said she will seek co-sponsors for her proposed legislation from New Jersey and California first, since the states boast large ports and will be most sensitive to water-related concerns.