Rep. John Ratcliffe (R-Texas) suggested Saturday that House Intelligence Committee Chairman Adam Schiff (D-Calif.) will not release Michael Atkinson's transcript amid an impeachment inquiry into President Donald Trump.
As the inquiry moves from the House Intelligence Committee to the Judiciary Committee, headed by Rep. Jerrold Nadler (D-N.Y.), Ratcliffe claimed Atkinson, who is the Intelligence Community Inspector General (ICIG), may have revealed information about a potential link between Schiff or his staff and the whistleblower who triggered the inquiry.
Responding to a question on Twitter about the transcript, Ratcliffe said: "It's because I asked IG Atkinson about his 'investigation' into the contacts between Schiff's staff and the person who later became the whistleblower. The transcript is classified 'secret' so Schiff can prevent you from seeing the answers to my questions."
Atkinson testified behind closed doors before the House Intelligence Committee on Oct. 4, or about a week after the inquiry was publicly announced by House Speaker Nancy Pelosi (D-Calif.). However, unlike the other impeachment witnesses, his transcript has not been released by the Intelligence Committee. Before his deposition, on Sept. 30 Atkinson's office said (pdf) the whistleblower's complaint "appeared credible."
The Wall Street Journal reported on the existence of the whistleblower complaint about a July 25 phone call between Trump and Ukrainian President Volodymyr Zelensky. Democrats seized on the complaint, announced the inquiry, and claimed there was quid pro quo in the president's dealings with Ukraine. They have alleged that Trump abused his power by withholding U.S. foreign aid to the country in exchange for investigations into former Vice President Joe Biden and son Hunter Biden, and the younger Biden's role as a board member on Ukrainian company Burisma Holdings.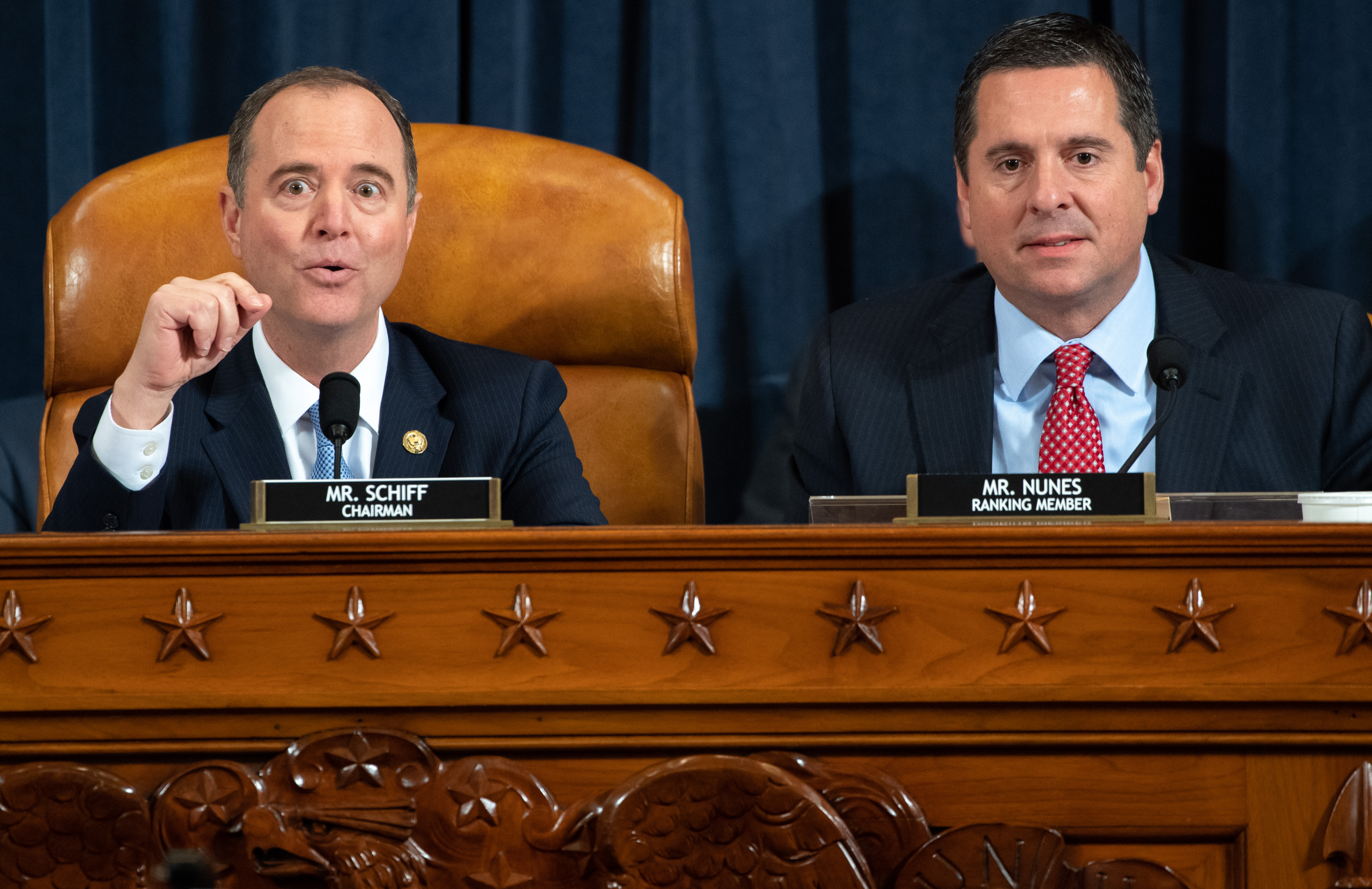 Republicans and Trump have accused Schiff's office of allegedly having contact with the whistleblower before the complaint was filed, which the longtime California Democrat has denied. Schiff later confirmed the claim that his office was told about the complaint before it was filed, prompting allegations of collusion from Republicans.
"I regret that I wasn't much more clear," Schiff told media outlets. "I should have been much more clear," he added later in October.
Some GOP lawmakers have said Schiff himself should be called to testify in the Senate and in front of the House Judiciary Committee.
The calls for Schiff to testify continued Monday, as White House adviser Kellyanne Conway challenged him to testify in the coming hearings.
"They have to be more definitive about what they're doing and they're not definitive," Conway told reporters about top House Democrats. "First it's the Judiciary Committee and then you've got Intel."
"Is Adam Schiff going to testify? Because he's a fact witness. That would be great. I'll tell you what, if Adam Schiff testifies, I'll show up on behalf of the White House," she added.