Rep. Maloney Issues Second Avenue Subway Report Card
July 29, 2013 7:25 pm Last Updated: July 29, 2013 7:25 pm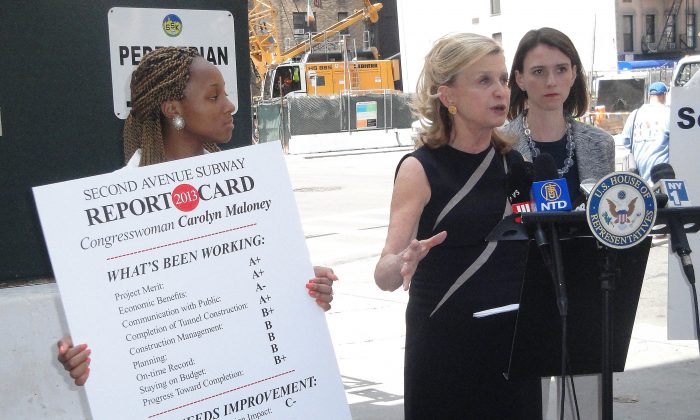 NEW YORK—Congresswoman Carolyn Maloney has given the MTA a B+ in her annual report card that measures how effectively the authority is handling the Second Avenue Subway project.
Speaking at a press conference at 72nd Street and Second Avenue July 29, Maloney said the MTA has completed more than half the construction for Phase I, which will run between 63rd and 96th streets, and is beginning construction of stations, entrances, and ancillary buildings.
She said she had given the MTA a higher grade this year, compared with a B last year, because the project will likely be completed on or ahead of time. Phase I is scheduled to be completed in December 2016. 
Residents often complained to her about the noise from construction, dust from blasting, or the impact on local businesses, she said. She said she was also sick of the noise, but the economic benefits in the long run will be great.
"Once we finish it life will be better, but right now it's not much fun," she said.
She said blasting should be completed at 86th Street this summer, and the muckhouses, used to remove dirt from the tunnels, are being dismantled at 72nd, 69th, and 83rd streets.
She commended the MTA on its recent efforts to keep the public informed, including opening a community information center at 1628 Second Ave. 
Phases II, III, and IV of the Second Avenue Subway project may overlap, and will eventually extend a new T subway line from 125th Street in Harlem to Houston Street on Second Avenue.
Phase I of the project, when completed, is expected to carry more than 200,000 travelers a day and significantly reduce overcrowding on the Lexington Avenue line.

Second Avenue Subway Report Card
Project Merit – A+
Economic Benefits – A+
Communication with the Public – A-
Completion of Tunnel Construction – A+
Construction Management – B+
Planning – B
On Time Record – B
Staying on Budget – B
Progress Toward Completion – B+
Mitigation of Construction Impact – C-
Progress on Station Entrances and Ancillary Facilities – C
Overall Grade – B+ (2011: B, 2010: B, 2009: B-)