Rep. James Clyburn (D-S.C.), one of the top Democrats in the House of Representatives, said he's endorsing former Vice President Joe Biden in the Democratic primary.
"I want the public to know that I'm voting for Joe Biden. South Carolinians should be voting for Joe Biden," he told a crowd in North Charleston on Wednesday. "I know Joe. We know Joe. But most importantly, Joe knows us."
"I can't think of anyone better suited, better prepared, I can think of no one with the integrity, no one more committed to the fundamental principles that make this country what it is than my great friend, my late wife's great friend, Joe Biden," he added.
Biden spoke after Clyburn, telling the crowd that he's been doing all he can to earn support from South Carolina residents.
"I promise you this—if you send me out of South Carolina with a victory, there will be no stopping us. We'll win the nomination. We'll win the presidency," Biden said. "And most importantly we'll eliminate the fear so many have in this country of a second term of Donald Trump."
Clyburn, 79, is a longtime ally of Biden, 77, but has said over the weekend he was still mulling who to endorse.
The endorsement came just days before South Carolina's Feb. 29 primary. Biden is still looking for his first win after coming in second in Nevada, fifth in New Hampshire, and fourth in Iowa.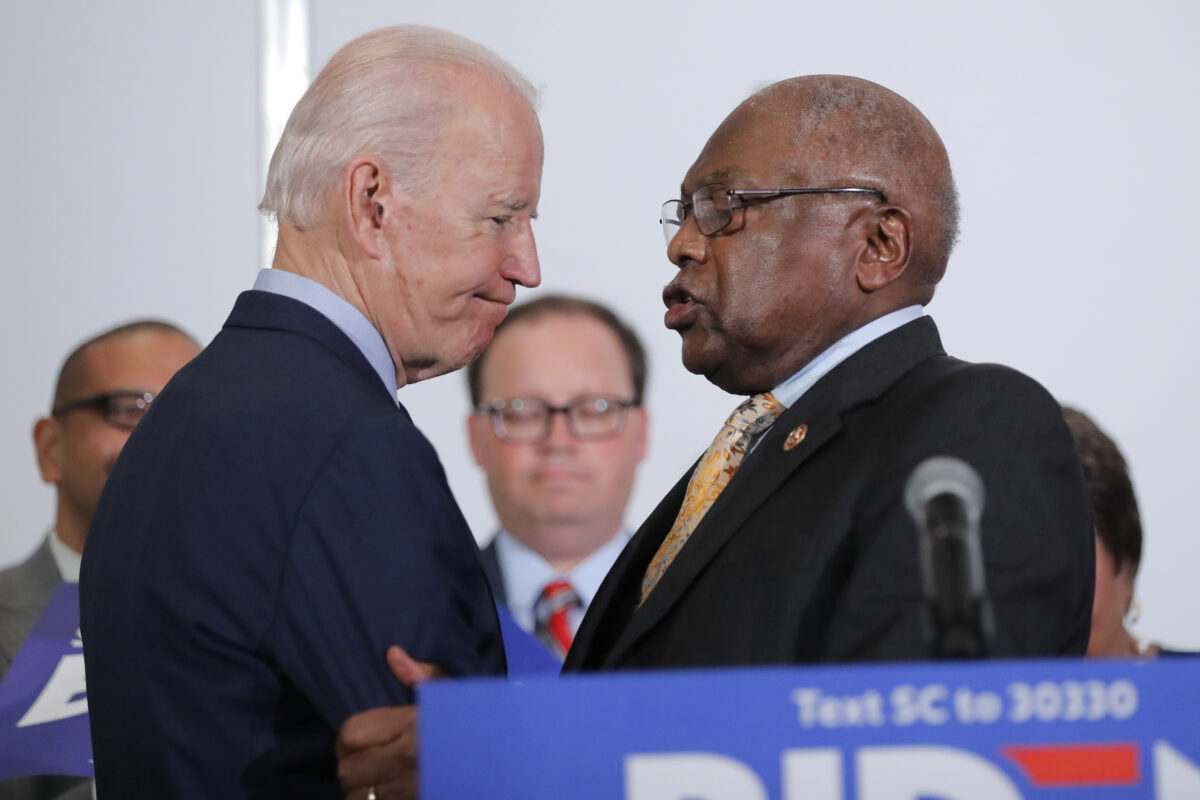 Biden told the audience at the Democratic debate on Tuesday night in Charleston that he has "worked like the devil to earn the vote of the African American community" and project confidence in the results of the upcoming primary.
"I intend to win South Carolina, and I will win the African American vote here," Biden said.
Asked if he would end his bid if he didn't win in South Carolina, Biden repeated that he would win the state.
Clyburn, the House Democratic whip, said over the weekend that he disagreed with Sen. Bernie Sanders's (I-Vt.) policy proposals. Sanders currently leads the Democratic field.
"I do believe that it would be problematic with Bernie Sanders and his so-called democratic socialist label," Clyburn told The Post and Courier. "A lot of people, not just in South Carolina, but in this part of the country, would have a problem with that label."
Clyburn said then that he was deciding between Biden and Sens. Amy Klobuchar (D-Minn.), 59, and Elizabeth Warren (D-Mass.), 70. He called Klobuchar "a very productive person" and said he'd worked closely with Warren on reducing student debt.