A law professor's reference to Barron Trump, the 13-year-old son of President Donald Trump, during the House Judiciary's impeachment hearing on Wednesday was met with rebuke by one lawmaker on the panel.
"While the president can name his son Barron, he can't make him a baron," Pamela Karlan, a law professor at Stanford University, stated during the hearing.
Later, Rep. Matt Gaetz (R-Fla.) blasted Karlan and cut her off at one point.
"When you invoke the president's son's name here, when you try to make a little joke referencing Barron Trump, that does not lend credibility to your argument. That makes you look mean," he told her during the hearing.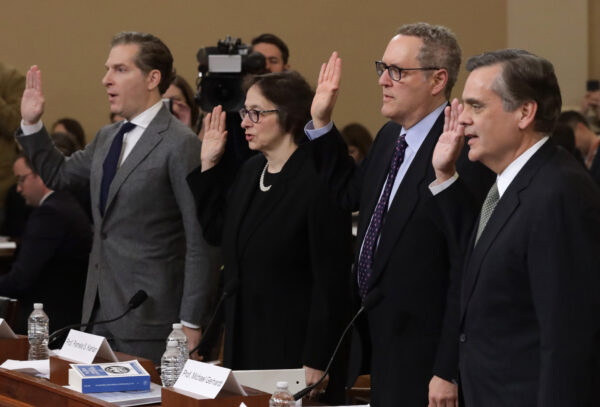 Gaetz also pointed out to the other Democratic impeachment witnesses that they donated to Democratic politicians including former President Obama, Hillary Clinton, Elizabeth Warren, and others.
He asked her why she donated $2,000 to Hillary Clinton's campaign as compared with the $1,000 donation she made to Sen. Elizabeth Warren (D-Mass.). She confirmed the claims he made.
Gaetz then read a quote from Karlan in which she said "liberals tend to cluster more. Conservatives, especially very conservative people, tend to spread out more, perhaps because they don't even want to be around themselves."
Karlan acknowledged making the comments and tried to explain. Gaetz then cut her off and said, "You don't get to interrupt me on this time."
Earlier in the day, the White House issued a statement about the hearing and Karlan's Barron Trump reference.
"Classless move by a Democratic 'witness.' Prof Karlan uses a teenage boy who has nothing to do with this joke of a hearing (and deserves privacy) as a punchline. And what's worse, it's met by laughter in the hearing room. What is being done to this country is no laughing matter," White House press secretary Stephanie Grisham said in a statement.
If wiretapping a political opponent is an impeachable offense, I look forward to reading that inspector general's report, because maybe it's a different president we should be impeaching. #ImpeachmentHearing #ImpeachingHearings pic.twitter.com/vsrroCConX

— Rep. Matt Gaetz (@RepMattGaetz) December 4, 2019
Karlan was joined at the hearing on Wednesday by Noah Feldman of Harvard University, Michael Gerhardt of the University of North Carolina, and Jonathan Turley of George Washington University.
The three law professors chosen by the Democrats made clear that they believed Trump's actions constituted impeachable offenses including abuse of power, bribery, obstruction of Congress and obstruction of justice.
Turley, the law professor selected by Trump's fellow Republicans, disagreed, saying the Democratic-led impeachment inquiry was "slipshod" and "rushed" and lacked testimony from people with direct knowledge of the relevant events, adding that current evidence does not show Trump committed "a clear criminal act."
The hearing was the committee's first to examine whether Trump's actions qualify as "high crimes and misdemeanors" punishable by impeachment under the U.S. Constitution. The panel would draft any articles of impeachment—formal charges—against Trump. If the House approves such charges, the Senate then would hold a trial on whether to remove Trump from office.
Trump and Ukrainian officials have denied allegations of wrongdoing.
Reuters contributed to this report.