Rep. Carolyn Maloney (D-N.Y.) will be named as acting chair of the House Oversight Committee, one of the three panels investigating President Donald Trump amid an impeachment inquiry, following the death of Rep. Elijah Cummings on Thursday morning.
Democratic leadership aides told The Hill, New York-based Pix11, and the New York Post that Maloney will chair the panel.
Before Cummings' death, Maloney was the next in seniority on the Oversight and Reform Committee. According to the rules of the House, she becomes the acting chairwoman in the event of a sudden vacancy.
The process to elect a permanent member will be carried out later, the Hill reported.
Today, our nation has lost a true leader and pioneer, and I have lost a dear friend and mentor. You will be missed, @RepCummings. pic.twitter.com/vxKj4SVT3u

— Carolyn B. Maloney (@RepMaloney) October 17, 2019
Maloney, who was elected to the House in 1992, represents the Upper East Side of Manhattan, part of Brooklyn, parts of Queens, as well as Roosevelt Island in New York City.
On Thursday, she wrote on Twitter that she lost a "dear friend and mentor."
"In an era where our politics have been plagued by coarseness and personal attacks, Elijah represented grace, dignity, and empathy under the most trying of circumstances," Maloney tweeted. "His legacy — his fight for fairness, justice, and equality — should be an inspiration to us all."
The Oversight and Reform Committee, tasked with investigating the federal government, is partaking in the impeachment inquiry of Trump. The House Intelligence Committee chaired by Rep. Adam Schiff (D-Calif.) and the House Foreign Affairs Committee chaired by Rep. Eliot Engel (D-N.Y.) are the other two panels involved.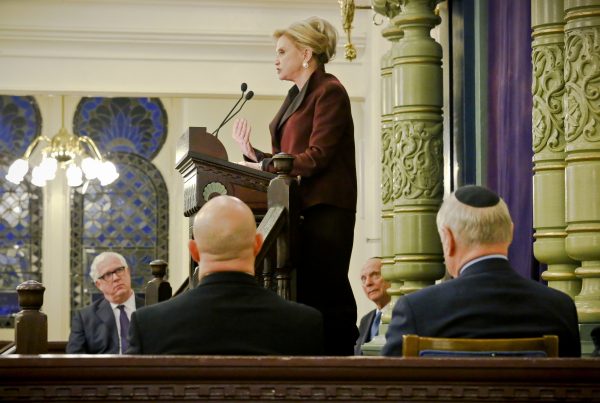 More than a week ago, Maloney was hospitalized in New York City after she apparently fainted during a press conference discussing the killings of several homeless men in Manhattan's Chinatown neighborhood.
The 73-year-old legislator was speaking to reporters Oct. 7 when she began to faint, according to the New York Post, which posted several photos of her laying on a backpack on a park bench. The New York Daily News also captured the scene on camera.
"She was ill. She got up and I guess she felt faint," witness Nikita Price, 62, told the NY Daily News. "Somebody put cold soda on the back of her neck."
Her spokeswoman, Jennifer Bell, said she is now "fine" and will be discharged from the hospital later in the day. An ambulance was called "out of an abundance of caution."
"She doesn't know the meaning of the word rest," said Bell. "That's one of her greatest qualities."
Meanwhile, former Barack Obama campaign staffer Suraj Patel is running against Maloney for the 2020 Democratic nomination in New York's 12th congressional district.