Rep. Alcee Hastings (D-Fla.) has been accused of violating the House Code of Ethics by employing his girlfriend on his congressional staff.
Just days after Democratic congresswoman Rep. Katie Hill (D-Calif.), 32, resigned amid an ethics probe and revelations of an affair with a campaign staffer, Hastings has come under fire for employing a disbarred lawyer, Patricia Williams, since at least 2000, reported the Palm Beach Post.
Hill's recent resignation has raised questions about why the U.S. House Ethics Committee has not yet investigated Hastings's relationship with Williams, who has been paid nearly $3 million in taxpayer-funded salary throughout her employment, according to LegiStorm, which tracks the salary of congressional staff members.
A resolution to change workplace rules was passed by the House in February 2018, prohibiting Congress members from having a sexual relationship with a member of his or her staff.
According to the House of Representatives Code of Official Conduct: "A Member, Delegate, or Resident Commissioner may not engage in a sexual relationship with any employee of the House who works under the supervision of the Member, Delegate, or Resident Commissioner, or who is an employee of a committee on which the Member, Delegate, or Resident Commissioner serves. This paragraph does not apply with respect to any relationship between two people who are married to each other."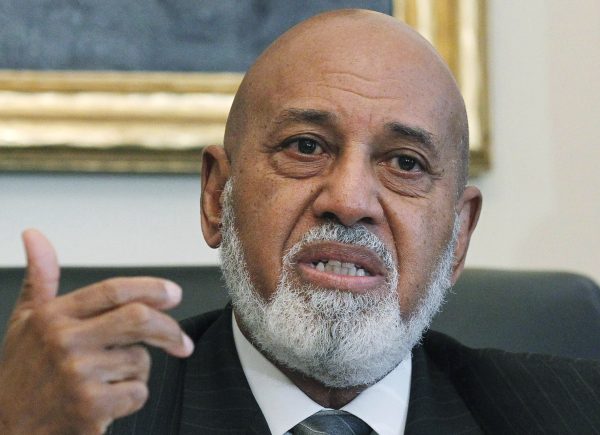 While Hastings's relationship with Williams has previously been criticized, the resolution's supporters have only started to question why the congressman has not been probed by the committee, which is led by U.S. Rep. Ted Deutch (D-Fla.).
Hastings, 83, told the news outlet in April that the pair remained in a relationship, and in 2017, the pair purchased a $700,000 house near Boynton Beach, according to property records. According to LegiStorm, Williams is his deputy district director.
When questioned about their relationship previously, he told Post on Politics: "My personal business is just that, personal."
"However it looks, it's been looking like that for 25 years," he told the Palm Beach Post.
Williams is currently the highest paid member of Palm Beach County's congressional delegation, paid on equivalent $168,412 per year, according to LegiStorm records.
Congresswoman Barbara Comstock (R-Va.), a long-time supporter of the House rule, told the news outlet Hastings's relationship with Williams violates the resolution.
"His flouting of the rules is legendary," she said. "This is open and shut. He is in violation."
It is unclear whether Hastings's relationship status with Williams remains the same since April. The Epoch Times reached out to his office for comment on the matter, but did not immediately hear back.
Comstock told the Palm Beach Post she does not know why the congressman hasn't been investigated, and hinted that certain members of Congress are not called out for their behavior.
"There is a sense that there are people who get away with it and people who don't," she said.
When questioned by the news outlet whether it was appropriate to investigate Hill, but not probe Hastings, Deutch refused to comment.
In 2011, Hastings was also sued for sexual harassment by a woman, Winsome Packer, who was hired as a policy adviser for the congressman when he chaired the Commission on Security and Cooperation in Europe in May 2007.
Hastings denied the accusations that he touched her inappropriately and made sexually suggestive comments. The case was dismissed, and Packer was awarded a $220,000 secret settlement by the congressional Office of Compliance.