Renowned Shanghai Rights Lawyer Brutally Beaten
February 20, 2008 12:00 am Last Updated: February 20, 2008 12:00 am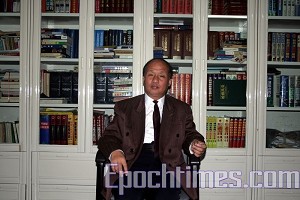 Famous Shanghai human rights attorney Zheng Enchong was brutally beaten three times in two days. By 11 a.m. on February 17, during questioning by police, he was insulted and badly beaten by hired thugs again. Zheng could hardly walk. He was finally released at 22:47 p.m., 12 hours later.
Before the beating incident, Zheng disclosed more inside information about the high profile corruption case of Zhou Zhengyi—the richest man in Shanghai, who is believed to have ties with former communist regime leader Jiang Zemin's two sons. Zheng said that the reason for the police's beatings is to stop him from making contact with overseas media.
Recently he came across some suspicious situations, including evidence of how the family of Huang Ju—former Standing Member of the Communist Central Political Bureau, sold land at a high profit. Ju is believed to have been Jiang Zemin's right hand man until he passed away in June 2007.
Not Allowed to Leave Home
Now, policemen and thugs, totaling 9 persons, stand guard outside Zheng's house around the clock.
Zheng said, "Sometimes they are at the elevator door, other times the front door of the first floor. In the most unnerving situation, four are guarding the elevator door. Local policeman Chen Fupei is guarding the elevator door today (February 18)."
According to Zheng, one of the policemen who beat him, Zhang Guangbao said openly, "This is an order directly from the head of the Shanghai Public Security Bureau not to allow Zheng to leave home, not a single step."
Beaten for Four Hours
On February 18, Zheng described the situation when he was summoned the day before.
A little past 11 a.m., on February 17, Zheng was summoned to the first interrogation room on the third floor of the Shanghai Public Security Bureau in the Zhabei Precinct.
Zheng said, "One of them, Captain Wu, slapped me left and right every five minutes, also pulled my nose, fiercely wrenched both of my ears, pressed my head just like the Cultural Revolution days, twisting my head constantly."
By 10 a.m. on February 16, as Zheng was going to get newspapers on the street, he was brutally beaten by Shanghai National Security personnel. After being beaten, he felt dizzy, and indignant. He told the reporter that he was going to start a hunger strike to protest Shanghai police's barbaric behavior.
At 6:50 a.m. on February 17, Zheng and his wife Jiang Meili were going out to church, when they were stopped by four people at the 14th floor elevator door. Jiang was permitted to pass, but Zheng was not allowed to leave.
Zheng indicated that the violence on February 17 was worse than that on the February 16. The police started to beat him first, then four people kicked his hip, thigh, and leg with their right legs, he was bruised all over and could hardly stand up.
Zheng suspected it was probably the result of people disclosing information about letters of corruption he had received regarding high level officials at the Shanghai Public Security Bureau.
Before the beating, Zheng exclusively revealed to the Epoch Times some of the content of the implicating letters. They include even more inside information about Zhou Zhengyi's land embezzlement scheme, which involved the power struggle between current regime leader Hu Jintao and Jiang Zemin, and criminal evidence about a brother of current CCP leader Wu Banguo and family members of the former Shanghai Party Chief Chen Lainyu and Huang Ju.
The Epoch Times will make public these reports on a case by case basis in the future.