Renowned Chinese Rights Advocate Tortured While in Detention
October 2, 2006 12:00 am Last Updated: October 2, 2006 12:00 am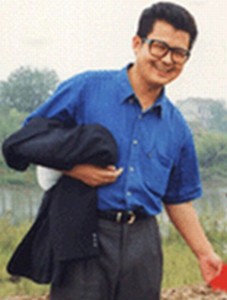 The imprisoned human rights activist Guo Feixiong disclosed the inquisition by torture when he met his attorney Mo Shaoping in the morning of September 29. He also went on two weeks' hunger strike to protest against the authority's large-scale suppression of human rights activists.
On the morning of September 29, defending attorney Mo Shaoping met with Guo Feixiong at the First Detention Center in Guangzhou City where Guo had been detained for half a month. During the 40-minute meeting, Guo disclosed how police tortured him to extort a confession. During the interview, Guo's wife Zhang Qing conveyed the information, according to the lawyer's meeting record.
Zhang Qing said, "First he was deprived of sleep. More than 10 policemen took turns interrogating him for seven days and nights. He was allowed only an hour's sleep each night. The record of the interrogation verifies this. What followed were abuse, insults and threats." While he was on a hunger strike he was force-fed through his nose by the police. He ended his hunger strike on September 29 because he was meeting with Mo.
Guo Feixiong was arrested on September 14 on fabricated charges of "illegal business operations." During the period just before his arrest, Guo was involved in trying to rescue his good friend and renowned human rights attorney, Gao Zhisheng. Chinese rights activists believe Guo's arrest was related to his involvement with the rescue activities.
Acting as defending attorney for both Gao Zhisheng and Guo Feixiong's, Mo revealed that Guo's provocation mainly related to the publishing of a book entitled "Earthquake of Shenyang Government"(a book relating to the corruption of the Shenyang Government) six years ago. Guo refused to acknowledge any of the questions because they could not prove the book was published by him.
Mo said this case "on the surface" was not related to Gao Zhisheng case.
His wife conveyed Guo's words to the outside world as follows.
Zhang Qing, "His 15-days hunger strike was not for his arrest for illegal business operation, but for protesting the recent government suppression of human rights."
Guo suffered continuous suppression since he provided legal consultant to villagers from Taishi village Guangdong province last summer. In the past one year, he has been detained for more than a hundred days, beaten up three times. This hunger strike is the third time within the past one year. Related articles:
https://www.theepochtimes.com/news/5-10-2/32852.html , https://www.theepochtimes.com/news/5-10-4/32880.html
During his visit Mo submitted an application for bail, according to regulations; the authority should response within a week.