In a clean and tidy room, green plants are placed almost everywhere.
Resonating with the guitar and the fast-paced drum beats, Xiaojuan held up the spray can (for a microphone) and sang with her trademark soft tone, "This is my home, a small place that he found for me, everywhere it's filled with plants, the entire place is green …" This is the first MV "My Home" produced by the threesome folk song group "Xiaojuan & Co-Residents in the Valley"–and also the last. By the time this MV was released in 2008, one of them–Yu Zhou had forever departed from his loved ones.
MV 'My Home'
"My Home" was filmed in the coldest days of the Beijing Winter.
Nevertheless, the entire MV seems to overflow with Spring and warmth. The MV was directed in Xiaojuan's home on the outskirts of the city. One can see how the lyrics came about: green plants, fresh flowers, paintings, music–it was home, simple but comfortable, joyous and filled with sunshine.
Xiaojuan's home is very small in fact, and so the director had no choice but to use all sorts of uncommon ways to complete the piece. The musicians themselves are filled with creativity as well: playing the guitar under the piano, singing in the wardrobe, etc. The filming was tough but everyone enjoyed it. The gentle and introverted Yu Zhou was a little too dull for the performance and the director asked him to be a little more humorous. Yu was very obedient. Even though his expression did not change much in front of the camera, it did have a tint of humor and smile.
"Xiaojuan & Co-Residents in the Valley" specializes in joyous, light, clear and child-like music. Through their simple and honest voices, one almost feels like he's returned to that youthful age of fun and laughter. It's no wonder that their music is well-liked by people of all ages and professions.
Amongst the trio, drummer Yu Zhou was a musical talent. He graduated with a degree in French Language from Beijing University and could speak a variety of languages. However, he liked music even more, and could play the guitar, drums and harmonica. His voice sounded good too. In his everyday life, he was also a philosopher. Even though he was not one to roll on the floor with laughter, he was absolutely humorous in his own way.
At a height of over 1.8m (six feet), Yu looked very cool. He had the highest IQ and had a lot of friends who would come to his place every so often to create havoc. Yu's wife, Na Xu, is also a graduate from Beijing University with a degree in News and Journalism. She was also a great poem writer and painter–both of which she learned by herself, and even had a small degree of fame in artistic circles.
In 1995, Yu heard about Falun Gong from a friend. Very soon thereafter, the couple realized that the practice, which teaches the principles of "Truthfulness, Compassion, Forbearance," is simply too good to be true and immediately hopped onto the path of cultivation.
'The Kindest People I Have Ever Met'
Speaking about the Yu couple, almost everyone among their friends would say, "Those two are the kindest people I've ever met," "I can only use 'kind' to describe them, there's no better word." After they began to cultivate Falun Gong, they began introducing this great practice to others, to help more people benefit from cultivation. Yu also volunteered to assist in the translation of "Zhuan Falun," the main Falun Gong text, when it was translated into French. Under their influence and example, many people also became Falun Gong cultivators.
Distant relatives and strangers alike, Yu treated everyone around him very well. For instance, when someone that Yu did not even know well came to his home to ask for help, the couple took out 800 yuan from their monthly income of 1,000 yuan to help him, keeping only what was required to eat and live.
Yu took care of his friends very well. Beijing is a place of gathering for artists around the world. Everyone hopes to make a name for himself in the film industry one day, but this is not easy in the entertainment circle. During that time, there was a group of people called the "Beijing Floaters," referring to those who "float" around in Beijing to pursue their artistic dreams, most of whom lived in hardship. Yu's home was in Beijing, and he had a relatively stable life, so he regularly helped these people. For instance, he would let friends live at his place free of charge, or help them financially to support themselves, etc.
Beijing is a very big city, and not with the best transportation system. Once, he went to meet a friend at the bus station. However, his friend was over an hour late, and he felt very uneasy. Yet, when they met at the station, Yu didn't even ask a single sentence and simply said, "Let's go!" Even up till today, this friend is still very touched by that incident.
Once, Yu drove out on an errand with several friends. Along the way, they saw a rock blocking the road. Every other car was simply going around the rock, creating a small traffic jam. Despite the inconvenience, no one seemed to care. Yu immediately got down and moved that rock away. Even then, he did not leave until traffic was back to normal. All his friends were amazed: "Where do you find people like that in today's materialistic and self-centered Chinese society?"
On July 20, 1999, the Chinese Communist Party launched its persecution against Falun Gong. Yu Zhou and Na Xu felt that they had to speak up and tell the truth of Falun Gong–a practice that has helped tens of millions achieve better physical and mental health. They traveled to Tiananmen to appeal to the authorities. However, the authorities simply refused to listen to them.
In August 1999, the Yu couple participated in a small meeting in Fangshan that also included several hundred other Falun Gong practitioners, including Dr. Wang Bin (currently in the United States, twice illegally sent to re-education through labor camps), Huang Xiong (current whereabouts unknown, brother of Huang Wanqing who's in the United States right now) and many others. After the persecution, everyone wanted to meet fellow practitioners and share their experiences. After the meeting, the Yu couple stayed behind to tend to some practitioners, but were abducted by the police and detained for fifteen days in the detention center. Having caught no one else, the police interrogated them severely accusing him of being the "organizer." However, they did not betray any of their fellow practitioners or give out any information. Instead, their kindness throughout the process touched the policemen who then stopped harassing them after their release.
In Prison
In 2001, while staying temporarily in Yu's home, another Falun Gong practitioner Li Xiaoli (persecuted to death thereafter) from Siping, Northeastern China was abducted. The police traced Li's phone calls to Yu's place and on July 3, the Beijing National Security Team abducted Xu. November of the same year, Xu was illegally sentenced to five years in prison by the Fangshan Middle Court for being a Falun Gong practitioner.
In the Beijing Female Prison, Xu suffered many kinds of torture but refused to give up the practice. Under the approval of the Prison Chief Zhou Ying, Na Xu was sent to a small cell for torture. In 2004, Xu was transferred to a labor team, isolated from other Falun Gong practitioners. Throughout her imprisonment, Xu continued to tell other convicts about Falun Gong's goodness as well as the truth behind the CCP's persecution. Her selfless actions and words touched many convicts and even policemen. As time went by, everyone felt that Xu was right. Afraid that she would influence the police and convicts into practicing Falun Gong, the Prison Chief transferred her between teams frequently, but wherever she went, the convicts would wave goodbye to her in tears.
Popularity Grows
While Xu was in prison, Yu Zhou, Xiaojuan and Xiaoqiang formed a threesome music band and named it "Xiaojuan & Co-Residents in the Valley." They sang all sorts of village songs, folk songs and traditional songs from around the world that were very well received everywhere they went. Very soon they developed a group of loyal listeners. Xiaojuan is handicapped and could not travel comfortably. However, with Xiaoqiang and Yu's support, she was able to make solid steps on her artistic path. Slowly but surely, her soft voice and optimistic outlook began to win the hearts of a great number of people.
Soon enough, the band began to make a name for itself. Very frequently, they were invited to perform in major hotels around China. In 2007, the band played three concerts and by this time, their own compositions, "Sunset Glow," "My Home," "Residents of the Valley," etc., had become very popular among their fans. "My Home" was the first and last piece in every concert. Because of their friends' suggestions, the trio completed their first MV titled "My Home." Everyone who saw the MV could only exclaim, "This is too beautiful to be true."
Xiaoqiang and Xiaojuan are husband and wife, and so it was only natural for Xiaoqiang to take care of Xiaojuan. Yu also took care of Xiaojuan a lot, and often ran around on stage passing things to her. In the "Warmth" concert held in Hangzhou, a children's choir joined in the singing. However, after the singing began, Yu was very concerned about each microphone and ran over to adjust them so that the children could perform their best.
They sang, "A large piece of red cloth, red cloth and green flowers, the flowers smell so good, so, so good …"
Regarding the concert, Xiaoqiang said, "I wish to sing this song titled "Red Cloth and Green Flowers" for all the ladies and their boyfriends, after which Yu "solemnly" added their parents and grandparents." After 42 years of life, Yu was still so pure hearted and humorous, he joked, "Why can't it be Green Cloth and Red Flowers?"
Towards the end of 2006, Yu's wife was released and the couple was finally reunited. Na Xu immediately returned to the arts and continued expressing her artistic talent. Not long after, she was spotted at a creativity office in the Oil Painting Department of the Central Arts Academy and offered a position in the school. In order to make sure that Xu gets all the support she can have, Yu moved closer to the school.
At this point it time, it looked as if their life was back on track and the future looked full of hope. Yet …
The CCP's Olympic Spirit
"2008" is the so-called "Olympic Year" by the Chinese Communist Party (CCP), and the Olympics has become "the greatest political task" of the Party as well. In this so-called "Olympic Year," the CCP intensified their persecution against those who are religious as well as dissidents. On January 26, 2008, on Yu's way home from a recording session that afternoon, the couple was stopped by police on their way and told that in order to "welcome the Olympics," every car was to be checked.
As Falun Gong practitioners, they had Falun Gong materials in their car. The Yu couple was immediately sent into the Tongzhou Detention Center. On February 6, Yu's family members received visitation notices, asking them to hurry to the Qinghe Emergency Center to visit Yu. However, when Yu's family reached the Center, Yu had already stopped breathing. His body was covered with a white cloth, his face still covered with an oxygen mask, and his feet were ice-cold.
When Yu's family asked about how Yu died however, the doctors skipped from "hunger strike" to "diabetes" and a variety of other reasons. According to Yu's family however, Yu was very healthy and never had any sort of diabetes. Moreover, he was only imprisoned for 10 days, how could he die from a "hunger strike?" In order to cover up their crimes, the detention center immediately demanded that Yu's relatives cremate Yu's body. Yu's family was told that if they did not agree, they were be "rounded up" for the crime of "stirring up trouble." However, Yu's family determinedly refused to agree and requested an autopsy. To date, Yu's body is still in the Emergency Center.
Xu Na probably doesn't know that her husband has already been persecuted to death. Soon after, she was transferred to the Beijing Detention Center (also known as the Seventh Section of the City Bureau, a place reserved for political prisoners) where she's suffering inhumane torture herself right now.
In the past 112 years, the Olympics has promoted peace, love and harmony wherever it traveled. People from all races, with all kinds of beliefs have conjoined in the Games to compete fairly and in harmony. The fundamentals of the Olympics are none other than humanity and the values of human civilization – except for the 1936 Berlin Olympics.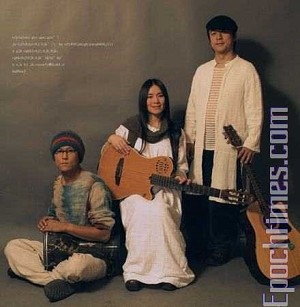 Yet, when it comes to China this summer, it will become the "biggest political task" of the Chinese Communist Party. How can it portray the Olympic spirit? An Olympic Games without its essence and spirit cannot be called a true Olympics.
We call upon people from around the world to reject this bloody Olympics, rescue Na Xu and millions of other people who have been persecuted on the same piece of ground that will host the Olympics this summer–to uphold justice for Yu Zhou and others like him and to protect the dignity of humanity!
Yu has left us, he never asked for anything in this world; on the contrary, he has left behind an eternal joy and beauty in the hearts of many with this last piece of music …
"This is my home, a small place that he found for me, everywhere is filled with plants, the entire place is green …"