Released Chinese Lawyer Believed Under House Arrest
December 30, 2006 12:00 am Last Updated: December 30, 2006 12:00 am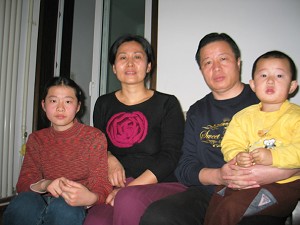 CHINA—Chinese attorney Gao Zhisheng has apparently not communicated with anyone since he was released from detention eight days ago. Gao was given a three-year prison sentence for "inciting subversion," after openly calling for the Chinese Communist Party to stop violence against Chinese citizens.
The execution of Gao's sentence was suspended for the next 5 years, meaning that he can be made to serve the sentence at any time if the authorities were to convict him of a "crime".
Presently it appears that Gao is under some sort of tightly controlled house arrest. According to a volunteer involved in Gao's rescue, the blockade around his home is very tight. Neither Gao's family in Shaanxi Province, nor his friends in Beijing have heard anything from him since his house arrest
Although they believe Gao is still in Beijing, they are unable to find any trace of Gao's 13-year-old daughter, nor can they tell if she is still attending school.
Hu Jia, a Beijing-based democracy activist, said that rescue efforts must continue into 2007, until Gao truly regains his freedom.
He has been participating in Gao's rescue, said he has not heard from Gao's daughter for seven days. This situation is very unusual and demonstrates that the Chinese Communist Party (CCP) has made great efforts to seal off all information regarding Gao, he said.
According to one source, Beijing is making every effort to block all means of outside contact with Gao. They intend to expel him from Beijing, and to repatriate him to Xinjiang, where he had worked before, or to his hometown in Shaanxi Province.
Hu Jia confirmed that he has heard similar news from his private sources.
Hu Jia: Efforts to Rescue Gao Need to Continue in 2007
Hu said that he is not concerned about whether Gao would make an appeal "because this trial was illegal from the start." He thinks that the CCP is blocking all means of communication between Gao and the outside world, which is in the CCP's best interest.
As to whether the regime's possible attempt to expel Gao from Beijing, Hu is very worried: "When the police abducted me on February 16, 2006, I struggled at first, but so many of them came and pressed my head against the floor of the car, pushed my hands upward, and put a black cover over my head … Did I have any choice at all under that kind of situation? If the CCP sent a car to Gao's house and asked the whole family to get in the car, who would be able to do anything? The most powerful thing in this country is violence!"
He says, "The communist regime closed Gao's case before the end of 2006 and want to make it history. This means that he and his family will continue to be in the same situation, under constant surveillance by the communist regime—as if in prison—until at least 2011. We cannot allow this to happen. Starting from January 1, 2007, we must launch a large-scale rescue. The CCP is building a wall between Gao and the outside world, we must break down this wall!"