Registered COVID-19 deaths have continued to double roughly every fortnight in England and Wales, following the pattern of the previous two months, according to the latest weekly data.
The data set offers a comprehensive, but slightly delayed snapshot of both deaths from all causes and those involving the CCP virus.
Nine percent of deaths in England and Wales had COVID-19 registered on the death certificate for the week ending Oct. 23, according to data from the Office for National Statistics.
In total there were 978 such deaths over the week, compared with 670 the previous week, and 438 the week before that.
Weekly deaths of people with the CCP (Chinese Communist Party) virus peaked at 8,758 in April and reached a low point of 78 in September.
Overall deaths from all causes are 10 percent higher than the five-year average for the time of year (980 deaths higher).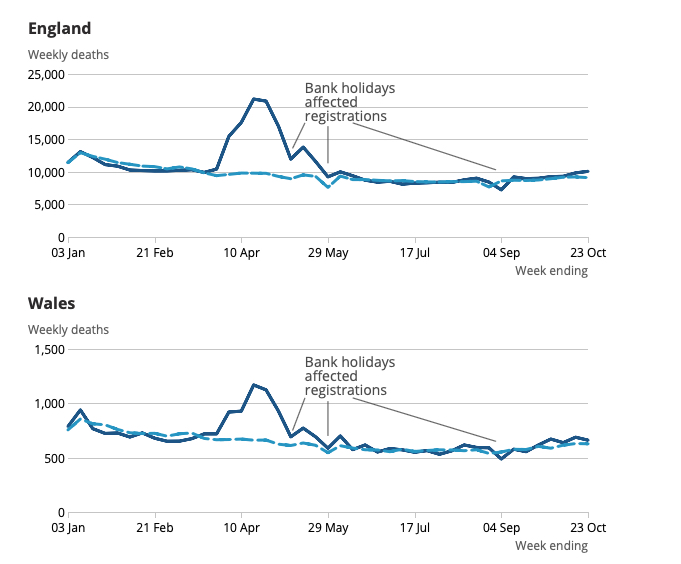 "The South West was the only English region to have fewer overall deaths than the five-year average," said the ONS in a statement.
How COVID-19 death cases stack up alongside Pneumonia and Influenza deaths depends on whether the "underlying cause of death" on the certificate is taken into account.
Weekly deaths recorded as "involving" Influenza and Pneumonia (1,719) were higher than for those "involving" COVID-19 (978).
However, Influenza and Pneumonia are the underlying cause of death in fewer than one in five such cases. COVID-19 is listed as the underlying cause in 9 out of 10 cases.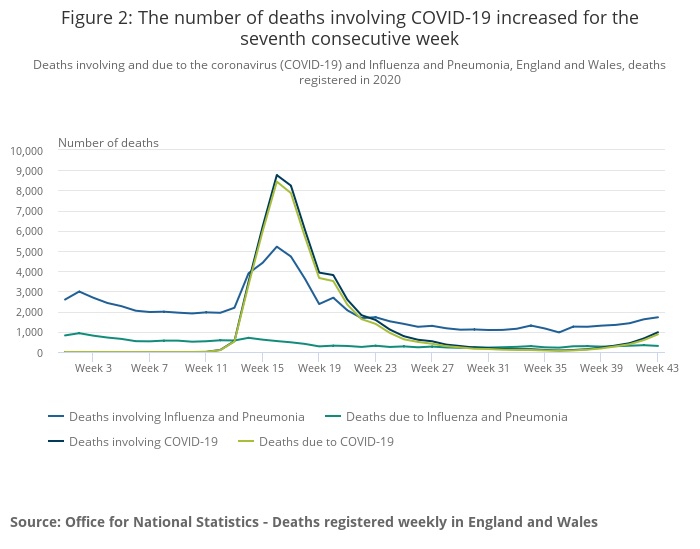 That means that deaths with COVID-19 listed as the underlying cause were three times higher than for Influenza and Pneumonia.
CCP virus deaths have increased or remained similar across age ranges. "The biggest increase was seen in those aged between 85 and 89 years, "said the ONS. "The number of deaths involving COVID-19 remained higher in the older age groups, with those aged 75 years and over accounting for the highest number of deaths involving COVID-19."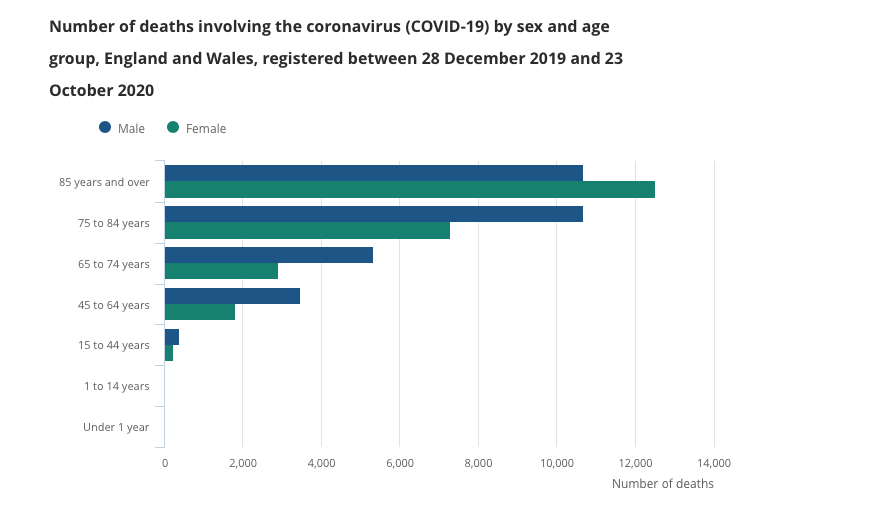 In total, just over 59,000 deaths involving COVID-19—including suspected cases—have been registered in the UK since the start of the pandemic.
The total number of deaths in hospitals has started to creep above the five-year average for the first time since mid-May. Most of the rise in overall deaths is in private homes.
The latest figures come as MPs prepare to vote on new legislation that will plunge England into a second national lockdown starting Wednesday night.