Regeneron Pharmaceuticals is pursuing FDA approval for its antibody cocktail to be used as a preventative treatment for COVID-19 after its latest study showed positive results.
The company announced in a release that its phase three prevention trial for REGEN-COV—a combination of casirivimab and imdevimab—showed that the drug reduced the risk of symptomatic infections by 81 percent.
The findings are drawn from the 1,505 people who were not infected when they entered the trial.
The double-blind, placebo-controlled trial also found that the drug cocktail "rapidly protected" people from exposure to the CCP (Chinese Communist Party) virus in households where someone else has the virus. It provided 72 percent protection against symptomatic infections in the first week and 93 percent after that, the company announced.
Among people who developed symptoms of COVID-19, the disease caused by the CCP virus, those who were treated with REGEN-COV cleared the virus faster and their symptoms were resolved faster—within one week compared to three weeks with a placebo, according to trial data.
The drugmaker said that it will share data with the U.S. Food and Drug Administration and request an emergency use authorization (EUA) for the combo therapy "to include COVID prevention for appropriate populations, using a 1,200 mg subcutaneous dose."
"These data suggest that REGEN-COV can complement widespread vaccination strategies, particularly for those at high risk of infection," Myron Cohen, who leads monoclonal antibody efforts for the U.S. National Institutes of Health-sponsored COVID Prevention Network, said in a statement.
"Despite standard precautions to reduce transmission, nearly 10 percent of unvaccinated individuals living with an infected person developed symptomatic infections if they did not receive REGEN-COV," he said, adding that if authorized, the therapy "could help control outbreaks in high-risk settings where individuals have not yet been vaccinated, including individual households and group living settings."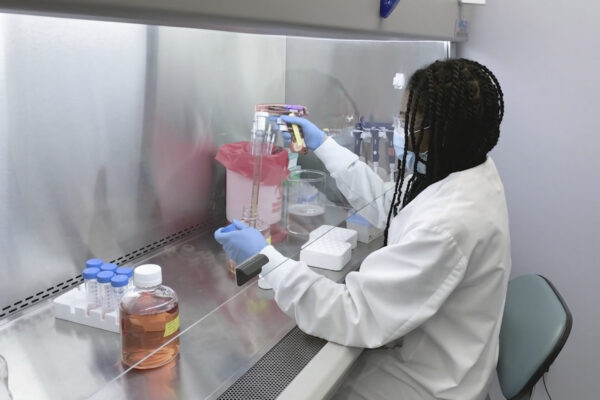 The company noted that after 29 days in the study, 11 people developed COVID-19 symptoms in the group that received a single 1,200 mg dose of the REGEN-COV treatment, compared to 59 people who received a placebo.
In the study, adverse events occurred in 20 percent of people who received the combo therapy, compared to 29 percent of those who got the placebo. Serious adverse events occurred in one percent of either group. In the 29 days, four placebo participants were either hospitalized or went to the ER because of COVID-19, compared to zero in the treatment group. No deaths in the trial—two in the treatment and two in the placebo groups—were due to COVID-19 or the drug.
REGEN-COV is currently FDA-approved for EUA to treat non-hospitalized people at least 12 years old who have contracted COVID-19 with mild or moderate symptoms and are at high risk for developing severe symptoms. The currently authorized dosage is a 2,400 mg dose composed of 1,200 mg of casirivimab and 1,200 mg of imdevimab, to be administered in a single infusion within 10 days of becoming symptomatic.
Former President Donald Trump previously described the drug as key to his recovery from having been infected with the CCP virus last year.
Regeneron also announced on Monday that a separate trial showed that REGEN-COV reduced the overall risk of progressing from asymptomatic to symptomatic COVID-19 by 31 percent, and by 76 percent after the third day. This trial involved 204 people who had the CCP virus but did not show any symptoms.
The combo therapy also nearly cut in half the total number of weeks that patients experienced COVID-19 symptoms—a reduction of 45 percent. The viral burden—the amount of virus present—was also reduced by more than 90 percent.
Six placebo participants were either hospitalized or went to the ER because of COVID-19, compared to zero in the treatment group.
"These phase three data provide even more evidence that REGEN-COV, this time given to asymptomatic patients via convenient injections, can change the course of COVID-19 infection in non-hospitalized patients," George Yancopoulos, president and chief scientific officer at Regeneron, said in a statement.