Refurbishing Fur Coats with Hy Fishman
April 3, 2013 8:53 pm Last Updated: June 24, 2015 8:43 pm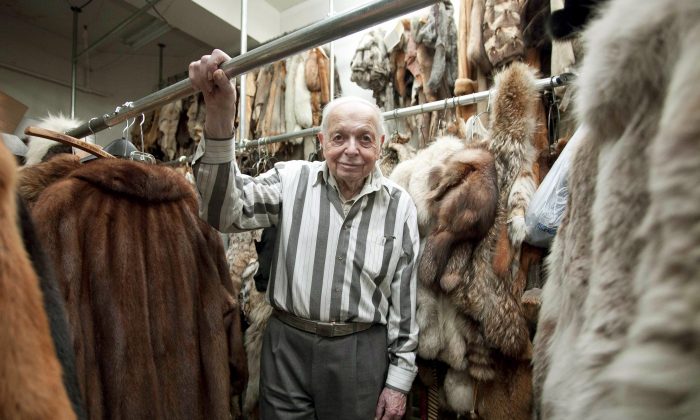 NEW YORK—In his 65 years as a furrier, Hy Fishman has seen a lot of horror stories involving pricey fur coats.
"One woman brought me a magnificent whiskey mink coat. She had put it in the washing machine. And then put it in the dryer," said Fishman. It looked like a rag when she brought it in, he said.
Another woman brought in a chinchilla skin that she had kept in the freezer for 20 years. After rotating it in a drum, Fishman was able to salvage half the pelts and make her a new garment with what was left.
Born into the business as a fourth-generation furrier, Fishman helps women refurbish, remodel, and repair their furs—and steps in on the occasional disaster. While half his customers live in the New York area, many live abroad and mail in their coats for redesign. Many customers, most of them he's never met, send him thank-you letters.
"This one woman went out of her way to send me letters," Fishman said. "She was so thrilled with her coat that she sent me an entire portfolio of photos—doing the dishes in the mink, washing the car—whatever she's doing she would not take off that coat. And the thing about it is, you know where she lives? Roswell, New Mexico."
Transformations
Fishman's vault is filled from floor to ceiling with all sorts of pelts: mink, lynx, sable, coyote, kolinsky, rabbit, beaver, fisher, fox.
In that vault contains 90 percent of the pelts Fishman needs to do restorations. The process begins in his little, lived-in office, where a small group of designers modify sketches and match furs.
The fur is diagnosed and an estimate given free of charge.
If the customer lives out of town and cannot come in for a fitting, a fabric version of the coat is mailed out. Edits that have to be made are communicated over the phone or by email. When the final design is confirmed, the sewing is completed right in New York City's Garment District. The finished coat is back in the customer's hands in two to three weeks' time.
Customers' top requests include updating outdated styles, repairing wear and tear, adjusting length, and converting a coat to a jacket. In this last case Fishman uses the excess to create a stole. The inherent flexibility in his system means that any size can be accommodated, from size 1 to size 8x. Hy Fishman does everything from cleaning, repairs, and alterations, to redesigns and made-to-order.
"I tell them: if you bring it in and we can't do it, we'll do it anyway—we'll find a way."
In the 1920s and 30s, furs were primarily the status symbol of the rich and famous. Silent films wouldn't have said so much if the heroine was not draped in a luxurious mink or sable. While furs still hold their mysterious allure, the times have changed.
"Those were the times when furs were only for the elite," said Fishman. "Now, they are for everyone—any woman, every woman."
It has to be acknowledged that furs aren't cheap, and won't get any cheaper, but Fishman says that he's never had so many customers since 45 years ago as he has this year.
"It's amazing, the amount of people," he said. "Our referral rate is astronomical."
Part of the reason why fur coats have everlasting appeal—aside from their glamor and incredible warmth—is their longevity. When properly taken care of, and when the style can be made to suit the individual, a fur can last for ages.
"I've had furs here refurbished after 50, 60 years," Fishman said. "I've had many grandmothers bring their granddaughters in with their own furs, and had them recut and so on."
In response to the echoes of PETA, Fishman says that the fur market will always be there. After all, "it always has been since the cavemen," he said with a laugh.
Hy Fishman is located at 305 Seventh Ave at 27 St. 19th Floor. Hy's websites are www.hyfishmanfurs.com and www.hyfishmanfursbbw.com for plus sizes.
When selecting a fur:
1) Listen to expert advice. "You have to listen to the experience of the furrier who should explain all details about how the garments are made, what to look for in terms of quality," Fishman said.
2) Fit is entirely personal—some want it tight and some want it loose.
3) Consider occasion. "Mink is the number one fur for any purpose, and the styling determines whether it can be used for sport or be more traditional," Fishman said.
Strictly casual: raccoon and long haired beaver.
More formal: sable, chinchilla, and sheared mink.
4) Brightly dyed furs can be trendy, or perfect for those with a big personality.
Fur care, year round:
Summer storage. Take a fur to a furrier in early spring for summer storage. The furs are kept in a safe, cool, and humidity-controlled environment to preserve the health of the hairs. Fishman charges $40 for the whole season, not including any repairs. The end of the cold season is a great time to take your coat in to a furrier for upkeep.
Annual cleaning and repair. Fishman suggests getting furs cleaned once a year. Get worn spots and openings taken care of immediately.
"More than anything, furs should never be covered or crushed among the clothes when kept in a closet," he said. Same thing applies when wearing the coat. Never ever sit on it—open it and lay it back behind you.
Rain is no problem. "When the animal gets wet it doesn't go to a furrier to dry off," Fishman said. "It's very simple: shake vigorously, and hang in cool place to dry. Heat burns up the coat."
Avoid salt and chemicals. Salt that is applied to streets to dissolve snow burns the leather of the coat. "Raise up the [hem of the] coat above the snow if possible, because we have to replace that entire segment."