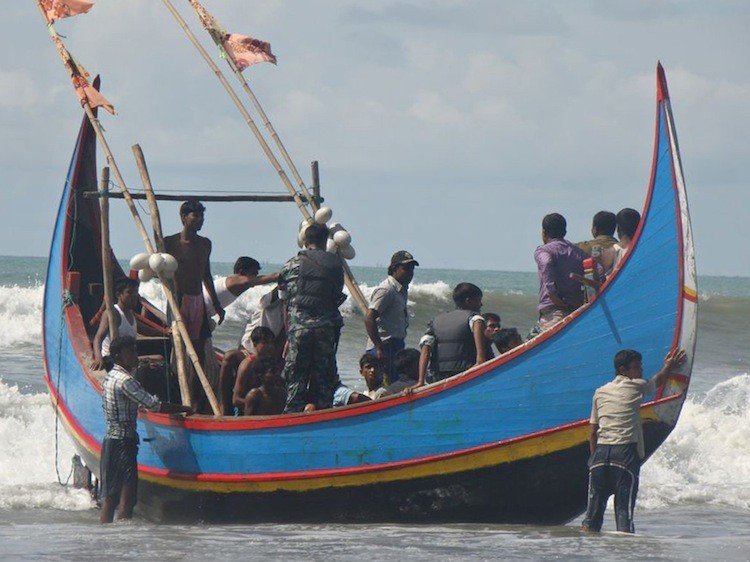 A boat carrying scores of Rohingya Muslim refugees capsized while it was heading toward Malaysia.
The vessel sank off the coast of Bangladesh, leaving around 85 people missing, officials told AFP on Wednesday.
Bangladesh Border Guard commander Lieutenant Colonel Zahid Hasan told the agency: "The boat was heading to Malaysia illegally," when it sank.
"So far, 51 people have been rescued by coast guard, fishing boats and the border force's sea patrols," a Bangladesh officer, Mohammad Jahid, told Reuters.
Survivor Jamir Hossain told the news agency that the Rohingya "were heading to Malaysia for jobs but the boat suddenly went upside down and sank."
"I floated for several hours before a fishing boat picked me up," he continued.
There have been throngs of Rohingya trying to leave western Burma after ethnic clashes with Buddhists left dozens dead and thousands of homes burned down in Rakhine state.
Border Guard Hasan told AFP that the vessel the refugees were traveling on was made mainly of wood.
"After the October 28 accident, we prevented another boat carrying nine Rohingya including women and children on November 2. And after that, this tragedy happens today," he said.
The Epoch Times publishes in 35 countries and in 19 languages. Subscribe to our e-newsletter.