Refuge Across the Himalayas: Tibetan Makes New Life in Canada
September 9, 2006 4:21 pm Last Updated: July 5, 2015 4:46 pm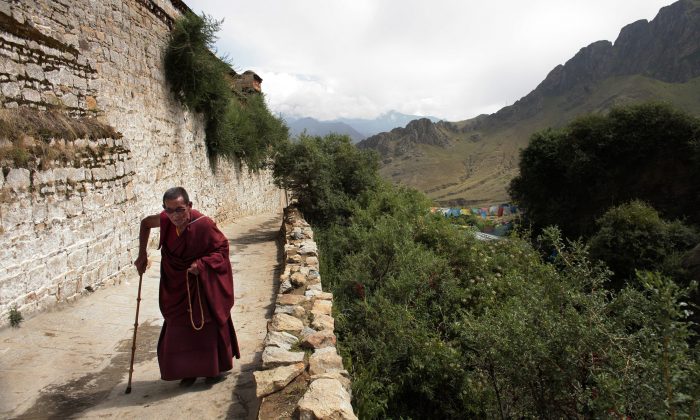 It was the winter of 1994 when 17-year-old Tahsi-Gyal and 15 fellow Tibetan refugees set out on a perilous trek across the Himalayas, determined to make it to the freedom that lay across the mountains in India. As they ploughed through unpredictable snowy depths and skirted treacherous ice holes, Tashi's greatest fear–apart from dying of altitude sickness–was the possibility of being caught by the Chinese military stationed throughout the Himalayas.
Currently working as a cook in Vancouver's Milestones Restaurant, Tashi reflects upon his oppressive high school years in Tibet–being permitted to learn only about the Chinese culture and language, though he aspired to be a Tibetan language teacher. 
He says Tibet's geographical isolation and lack of political and economic involvement with other countries made it easy for the Chinese government to destroy its monasteries and prohibit Tibetans from practicing their culture after the takeover in 1959. Desperately wanting to escape the fearful and hostile atmosphere which permeated the country at the time, Tashi devised a plan to flee to India. 
"A relative showed me a video of India," says Tashi. "I was so impressed to see all the students who had so much freedom to study. They were protesting against the Chinese, and it was the first time I saw a Tibetan flag. Until then, I didn't even know a Tibetan flag existed."
Lying to his father, Tashi borrowed C$100 ostensibly to go toward his education, though he actually used it to pay the guide who would lead him and fifteen others, mostly monks, across the Himalayas. Maintaining strict secrecy for fear of getting found out by Chinese spies, Tashi and the rest of the group finally embarked on the first leg of their journey, a three-day drive to the capital city of Lhasa. From there, a nine-hour drive brought them to the small city of Sagha, where they spent the night in a hotel–the last bit of warmth and comfort they were to experience for quite a while.
Each member of the group carried 25 pounds of tsapa (a traditional porridge-like food), which was to be their only sustenance throughout the 12-day trek through the Himalayas. Though the nights were bitterly cold, they walked all night and hid during the day; the best way, the guide said, to avoid getting detected. One of the most daunting obstacles was the Ganges River, which they crossed on foot at a shallow point. Still, the water reached their necks. Having removed their clothes to keep them dry, they waded across the mighty river, holding their packs above their heads.
"We had to move fast, otherwise we'd sink in quick sand," said Tashi. "And we had to drag our feet, because if we lifted one foot to take a step, the current was so strong we'd get swept away" 
Further on, they crossed yet another river, this time carrying two members of the group who had succumbed to altitude sickness. At the highest points, they were traveling at an altitude of between 5,000 and 7,000 meters. By this time, Tashi's legs and feet were swollen and he was starting to suffer from altitude sickness himself. 
Vancouver resident Leslie Thomson, who befriended Tashi while working as a volunteer teacher in India, says each month about 200 people flee Tibet and undertake the dangerous journey across the Himalayas. About 98 percent make it through. Those who are captured are not sent back to Tibet, but to China.
"We were lucky the Chinese police didn't catch us," says Tashi. "If they had, we would have been sent to jail in China. I've heard terrible stories about the Chinese jails, a lot of people die there."
Sixteen days after leaving Lhasa, Tashi's exhausted group reached the Nepal/Tibetan border. Though the perils of crossing the mountains were behind them, there was still a risk of getting caught. 
Sleeping on the roadside by night and fending off thieves and suspicious police officers during the day, Tashi and his friend, who by this time had separated from the rest of the group, eventually arrived safely in Katmandu thanks to assistance from a Tibetan/Nepali family. After being interviewed by U.N. representatives at a Tibetan reception centre, Tashi was finally given permission to go to India. 
"I never felt happier in my life," says Tashi, wondering now how he ever undertook a journey so fraught with danger.
He settled in Dharamsala, and fulfilled his dream by studying Tibetan for the next three years while receiving governmental aid in the form of money, clothing, and food. He also studied business, worked as a journalist for several magazines and eventually opened his own restaurant in Himachal. 
Thomson, who says meeting Tashi was "like a clicking of souls," was able to get the young refugee into Canada on a group sponsorship. The procedure included finding four Canadian citizens with a regular income who were willing to support the sponsorship, setting up a trust fund as a backup, and hiring a lawyer. The entire process took four years.
"It was a precedent bringing a Tibetan refugee here on a group sponsorship," says Thomson. "Now that I know what to do, I'm hoping to sponsor one more."
After Tashi becomes a Canadian citizen next year, he wants to apply for a passport so that he can visit his family and friends in Tibet. He firmly believes the country will "get independence one day." Then he plans to attend culinary arts school and eventually open a restaurant in Vancouver. A member of Students for a Free Tibet, Tashi protested during Chinese leader Hu Jintao's visit to Vancouver last year–something he marvels at having the freedom to do.
"Living in Canada is a totally different story… I feel so lucky," says Tashi. "Every moment I live here is great, it's a great opportunity to do all the things I want to do."