Reference to June 4 Tiananmen Massacre Leads to TV Station Suspensions
June 6, 2010 1:35 am Last Updated: October 1, 2015 7:57 pm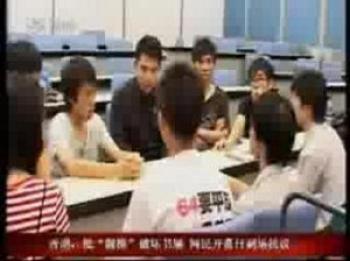 The news that Shenzhen Satellite TV has suspended several senior management staff—reportedly because of a reference to the 1989 Tiananmen Square massacre—has spread rapidly via the Internet.
A phrase appearing on a talk show is thought to be the cause of the suspensions. The incident followed on the heels of the withdrawal of a cartoon from the Southern Metropolis Daily, a popular newspaper that alluded to the 21st anniversary of the massacre.
According to an unconfirmed report received by Radio France Internationale, several senior management staff of Shenzhen Radio, Film, and Television, including CEO Wang Maoliang, and Chief Editor Chen Juncong, have been suspended and put under investigation. The actions are due to the appearance of the phrase "Vindicate June 4" on the talk show "30 Minutes at Noon," broadcast by Shenzhen Satellite TV.
Ye Du, a Guangzhou-based Internet contributor, indicated that in a snapshot image, a group of young people were having a discussion, seated around a table. One of them wore a T-shirt with the controversial phrase on the back, according to a report on June 3 by Radio Free Asia (RFA).
Ye believes the content of the talk show had nothing to do with the June 4, 1989, massacre and that the incident was a result of the program production team's negligence. Nevertheless, the incident is being treated as a grave issue by Chinese authorities, and it's likely that they will take extreme measures.
RFA called Shenzhen Satellite TV to confirm the incident, but was unable to obtain information.
An anonymous official from the Guangdong Provincial Propaganda Department indicated that Shenzhen Satellite TV was the first media in the country that advocated for the vindication of victims of the June 4 incident, a sensitive issue for the Chinese leadership.
In another event related to June 4, RFA reported that Zhang Jiankang, a Xian-based human rights lawyer; Xiaoming Ma, a human rights activist; and Yang Hai, a democratic movement activist, were forced to leave the area by local authorities on Thursday, presumably to prevent them from collaborating around this time period.
Boxun, in a June 3 report, aired the viewpoint that the suspension of those responsible for the broadcast is a way to further quash the continued controversy over the Tiananmen Square massacre, as well as serve as a warning to others not to cause trouble.
During the June 4 anniversary period, all media outlets in China are closely monitored. Reporting on the topic is strictly banned by the regime, which maintains that due to anti-communist sentiment, details of the event have been grossly exaggerated worldwide.
However, eyewitness accounts and the personal testimony of victims persist in refuting the regime's claims.
Read the original Chinese article.