Redrafting the 2008 NBA Draft Class
July 4, 2013 6:30 am Last Updated: July 4, 2013 2:08 am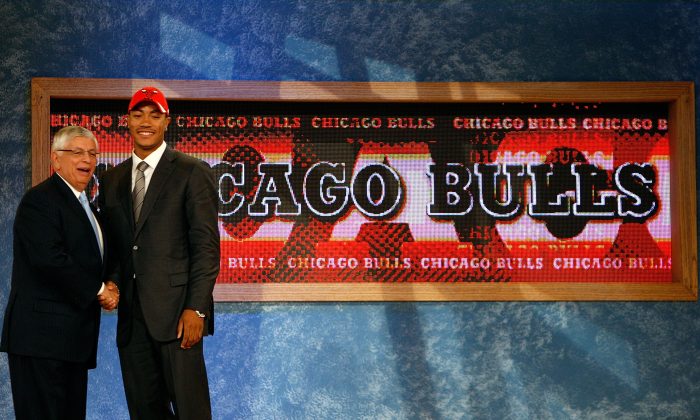 It's very difficult to grade a team's draft haul just a week or two after the final pick has been made. In fact, even a couple years later, the jury is still out on most players. Some players are late-bloomers, some are blocked by veterans, and some are stashed in European leagues for several years before coming over.
Five years out though, most teams know what they have. With that said, how would the 2008 NBA Draft (a loaded draft, by the way) play out if it were redrafted today? Here we'll take a look at which teams drafted which players (just the 14 lottery picks) and then decide who those teams would draft in that same position today.
As an aside, we'll treat draft-day trades as if the team which acquired the player, actually acquired the pick and then made the selection, as opposed to the official ledger.
First pick—Derrick Rose, Chicago Bulls; Redraft selection: Derrick Rose—The biggest mystery leading up to the draft five years ago was whether Chicago would take Rose or Michael Beasley. Here the biggest question is whether Rose is still the first pick over Russell Westbrook, despite Rose missing all of 2013 with a knee injury. We'll go with the former MVP here.
Second pick—Michael Beasley, Miami Heat; Redraft selection: Russell Westbrook—Westbrook, who at times looked more like a shooting guard trying to play the point, has now turned into one of the game's best players at both ends of the floor. Beasley, who was in the doghouse from the get-go in Miami, is now on his third team.
Third pick—O.J. Mayo, Memphis Grizzlies; Redraft selection: Kevin Love—Mayo was the highest rated player coming out of high school the year before but has plateaued as a decent shooting guard. Love on the other hand, is one of the best young power forwards in the league, having led the NBA in rebounding in 2011.
Fourth pick—Russell Westbrook, Oklahoma City Thunder; Redraft selection: Roy Hibbert—Hibbert versus Brook Lopez is a tough call here as both centers have put up good numbers. Hibbert, who was taken 17th overall, though is more of a true post player (and really excelled in the playoffs) and at 7-2 and weighing 280 pounds is an absolute load in the paint—as Miami found out this past May.
Fifth pick—Kevin Love, Minnesota Timberwolves; Redraft selection: Brook Lopez—Lopez gets the close nod here over Eric Gordon, partly due to Gordon's injuries the past two seasons. Lopez's career numbers thus far (17.9 points, 7.4 rebounds, and 1.7 blocks per game) are very good for a center.
Sixth pick—Danilo Gallinari, New York Knicks; Redraft selection: Eric Gordon—Gordon, who has played just 51 games the past two seasons, still has a career scoring average of 18 points per game. When healthy he scored 22.3 per contest as a 22-year-old in 2011.
Seventh pick—Eric Gordon, Los Angeles Clippers; Redraft selection: Ryan Anderson—Anderson, Gallinari, Mayo, and Nicolas Batum are the best shooters from this draft. But while Mayo peaked as a rookie (18.5 points per game) and neither Mayo, Gallinari, or Batum are real good rebounders, Anderson (the 21st overall pick) has seen his scoring and rebounding on the rise nearly every season since and was at 16.2 points and 6.4 rebounds a game in 2012-13.
Eighth pick—Joe Alexander, West Virginia; Redraft selection: Danillo Gallinari—The first dud of the draft was Alexander, who has been out of the league for more than three years now. Gallinari, who averaged 16.2 points and 5.2 rebounds a contest this past season, gets the slight nod over Batum, as Batum has taken a little bit longer to develop.
Ninth pick—D.J. Augustin, Charlotte Bobcats; Redraft selection: Nicolas Batum—While Augustin is now a backup point guard for the Pacers, Batum started off averaging just 5.4 points per game as a 20-year-old rookie in 2008-09 before flourishing. He's now blossomed into one of the better small forwards in the game, averaging 14.3 points, 5.6 rebounds, and 4.9 assists per game this past season.
Tenth pick—Brook Lopez, New Jersey (now Brooklyn) Nets; Redraft selection: Serge Ibaka—Ibaka, taken 24th overall by Oklahoma City, has led the league in blocks per game each of the past three seasons. Though his career scoring average is just 9.7 points per game, he gets few touches with Durant and Westbrook running the show.
Eleventh pick—Jerryd Bayless, Portland Trail Blazers: Redraft selection: O.J. Mayo—Mayo finally gets the nod here, as his scoring is still undeniable. Though once relegated to sixth-man duties with the Grizzlies, he was a starter in Dallas this past season, putting up 15.3 points a game.
Twelfth pick—Jason Thompson, Sacramento Kings; Redraft selection: George Hill—Though Thompson has been decent at power forward (career average of 10.5 points and 7.1 rebounds per game) Hill, the 26th overall pick, has been a good point guard for San Antonio and now Indiana.
Thirteenth pick—Brandon Rush, Indiana Pacers; Redraft selection: Goran Dragic—Rush has been a decent player off the bench in his five years in the league, but Dragic excelled in Phoenix this past season, averaging 14.7 points and 7.4 assists a game.
Fourteenth pick—Anthony Randolph, Golden State Warriors; Redraft selection: DeAndre Jordan—Jordan, the fifth pick in the second round, gets the slight nod over power forwards J.J. Hickson and Jason Thompson here. The center, who averaged 8.8 points and 7.2 rebounds per game last year, has become one of the better shot-blockers in the league—ranking second in blocks in 2011-12.