Commentary
South Korea's possible next leader wants the United States to redeploy to its territory tactical nuclear weapons that were withdrawn in 1991.
But the Biden administration almost immediately turned down his idea, practicing pre-emptive disarmament in the face of North Korea's ongoing nuclear missile buildup that has long been assisted by China.
South Korean reports noted that on Sept. 22, the leading South Korean opposition presidential candidate, Yoon Seok-youl of the People Power Party, said that once in office he would "demand" the United States redeploy tactical nuclear weapons to South Korea.
Yoon also wants Washington to begin a nuclear "sharing" arrangement that the United States has long employed with some of its North Atlantic Treaty Organization (NATO) allies. Belgium, Italy, the Netherlands, Germany, and Turkey "host" U.S. tactical nuclear bombs that, if required, can also be delivered by their combat aircraft.
During its previous stationing in South Korea from 1958 to 1991, the United States had maintained exclusive control over its tactical nuclear weapons.
Yoon is apparently the highest ranking South Korean political leader to support the return of U.S. tactical nuclear weapons. For most of the last decade, South Korean polls have shown consistent high levels of support for the return of U.S. nuclear weapons.
However, by Sept. 24, the Biden administration had rejected Yoon's idea, according to a report by Voice of America. In an online forum, Mark Lambert, the deputy assistant secretary of state for Japan and Korea stated: "All I can say is, U.S. policy would not support that. And I would be surprised that the people who issued that policy don't know—or [who] issued those statements—don't know what U.S. policy is."
South Koreans and others might be forgiven if they concluded that the policy of the United States, approved by Democrat and Republican administrations, has been to allow North Korea to build a nuclear missile arsenal to wipe out cities in South Korea, Japan, and the United States.
Three decades of diplomacy, starting with President George H.W. Bush, along with successive sanctions imposed by the United Nations or directly by the United States, and even an aggressive blockade to intercept North Korean ships breaking sanctions, have all failed to stop three generations of North Korean leaders from developing nuclear weapons and long-range missiles to carry them.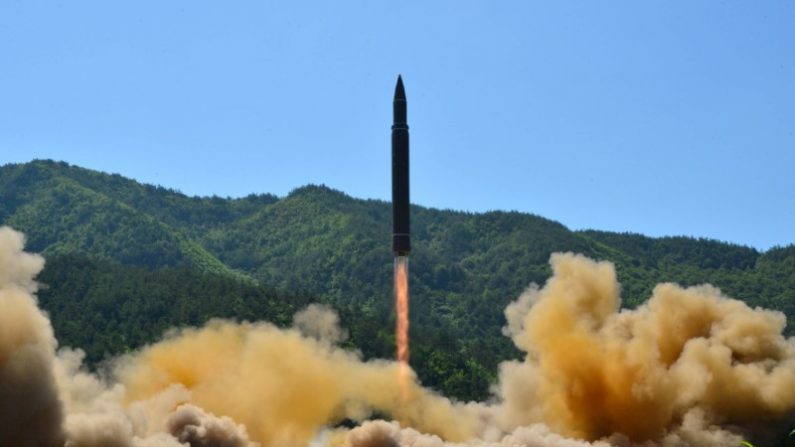 One reason why North Korea has remained defiant and ignored sanctions is that China has provided direct and indirect assistance to its missile development program, and very likely its nuclear weapons development program.
On April 15, 2012, Pyongyang paraded a mock-up of its Hwasong-13 intercontinental ballistic missile (ICBM). But that fake missile was carried by a very real 16-wheel transporter-erector-launcher (TEL) manufactured by the China Aerospace Science and Industry Corporation (CASIC).
Over the last decade, three generations of CASIC TELs have paraded North Korea's Hwasong-13, Hwasong-14, and Hwasong-15, with the later two being very real, liquid fuel ICBMs—both tested in 2017 and capable of reaching the United States.
In an April 2017 parade, a 16-wheel CASIC TEL carried a mock-up of a cold-launch tube for a future solid-fuel ICBM, which could be launched more rapidly so as to avoid U.S. counterstrikes.
In order to make these large and sophisticated TELs for North Korea, CASIC would require intricate details regarding North Korean ICBMs, which raises the possibility that Chinese companies have been deeply involved in North Korean missile developments.
Chinese fingerprints are elsewhere. China's Sinotruk Corporation provides large trucks capable of carrying North Korean navigation satellite-guided artillery rockets, North Korean medium-range missiles, and North Korean submarine-launched ballistic missiles (SLBMs). Soon, North Korea will demonstrate a missile multiple-warhead capability.
Indian sources contend that China was the source for multiple-warhead technology, which was likely tested on Pakistan's Ababeel missile in January 2017. But given the history of Pakistan-North Korea cooperation in nuclear weapons and missile developments, it is also possible that China gave North Korea the multiple-warhead technology that it had tested by Pakistan.
On Sept. 15, North Korea tested its first Hypersonic Glide Vehicle (HGV) warhead, which can fly at hypersonic speeds at depressed trajectories to evade warning and interception radar, and can also extend the range of a missile by up to 40 percent.
Potential source, Pakistan, has not yet tested a HGV warhead. But in February 2020, U.S. Air Force General Terrence O'Shaughnessy disclosed that China was testing "an intercontinental range hypersonic glide vehicle." Chances are good that China is the source of North Korea's HGV technology.
In 2020, the U.S. Army estimated that North Korea could have up to 60 nuclear weapons, which along with North Korea's ICBMs, intermediate-range, medium-range, and submarine-launched ballistic missiles—and now its new Land Attack Cruise Missile and HGV warheads—stand as a testament to the failure of diplomacy and determination by the United States, South Korea, Japan, and the United Nations.
The Chinese regime assisted North Korea's nuclear missile arsenal so that it could intimidate the United States from coming to South Korea's defense if Pyongyang attacked, but also to create future crises that China could exploit—a North Korean nuclear crisis could create a diversion to enable China's invasion of Taiwan.
Through its most recent decade of proliferation, China's CASIC has not suffered one U.S. or U.N. sanction for helping Pyongyang transport its nuclear missiles that could wipe out American cities.
Former President Donald Trump spent a great deal of effort and political capital, and only managed to convince North Korean dictator Kim Jong Un to stop testing his long-range missiles.
But with the Sept. 15 HGV test, this moratorium likely has ended. North Korea will likely begin testing of multiple-warhead missiles, new solid fuel ICBMs and IRBMs, new SLBMs from its new large submarines, and air- and sea- launched LACMs.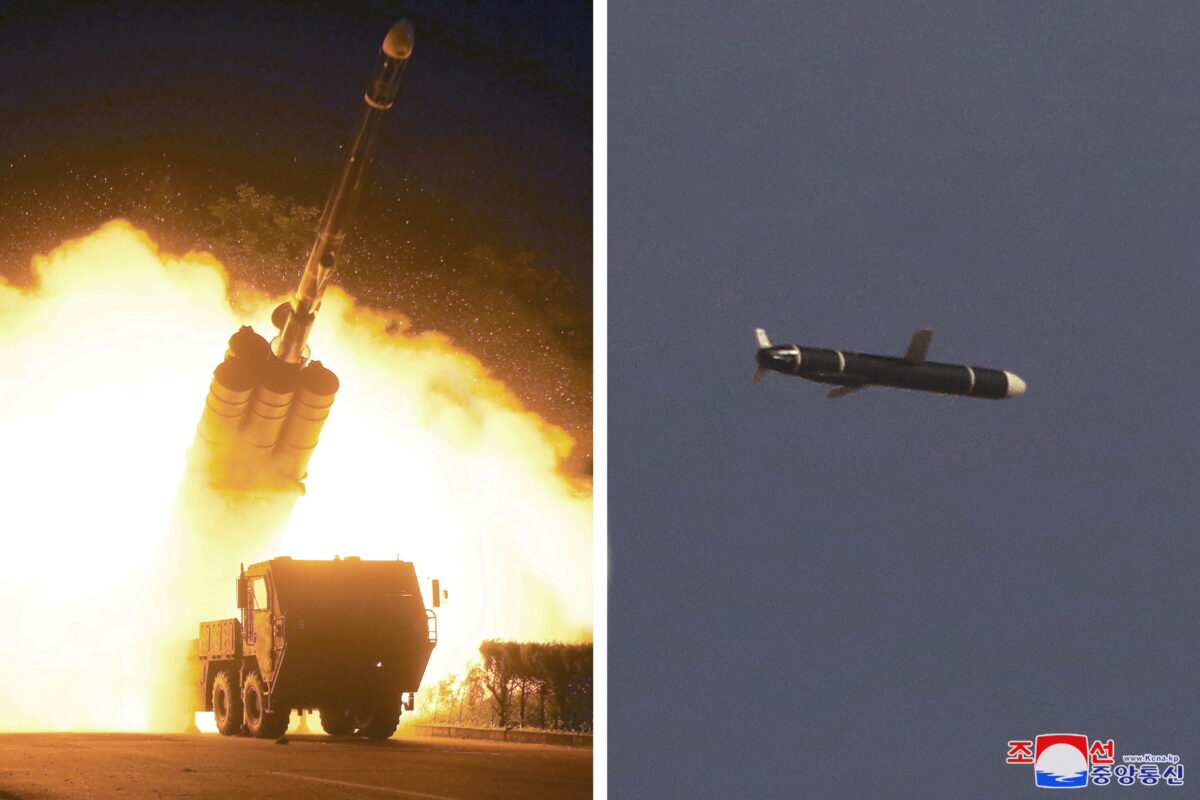 An American redeployment of tactical nuclear weapons to South Korea is actually years overdue, and is now a necessary response to the crisis of China's buildup to 3,000 or 4,000 nuclear warheads.
The Chinese regime intends to coerce the United States, which only has about 1,800 warheads, from coming to the defense of Taiwan, South Korea, and Japan.
To make sure that Chinese nuclear blackmail does not divide the United States from its allies, Washington should offer NATO style "shared" tactical nuclear weapons basing to South Korea and Japan, and should rapidly redeploy tactical nuclear weapons on U.S. Navy submarines and ships.
This is how one deters North Korean and Chinese nuclear aggression, penalizes their perfidy, reassures nervous Allies, and make clear to both Beijing and Pyongyang that negotiated nuclear weapons reduction is the only path that will increase their security.
Views expressed in this article are the opinions of the author and do not necessarily reflect the views of The Epoch Times.