In the wake of legislative changes after the overturning of Roe v. Wade by the U.S. Supreme Court, officials at pregnancy help centers in Southern California say they will continue to support women with unexpected or unwanted pregnancies—by walking them through all available options and providing assistance during this challenging time in their lives.
"Pregnancy resource centers exist to help women who may find themselves with an unplanned pregnancy," Margaret Brown, executive director of Rose of Sharon Pregnancy Resource Center, told The Epoch Times. "We exist to help and support life, not only in the womb, but after a baby is born as well."
Many women come to the center—a nonprofit in Victorville that was founded in 1986—for a pregnancy test, among other reasons.
Brown said if the test result is positive, meaning that the person is pregnant, the center's counselors are available to discuss options and arrange a free ultrasound.
"Eighty-five percent to 90 percent of women who see their baby during their ultrasound choose life for their baby," Brown said.

Brown said the team at Rose of Sharon is aware of the hostility some people have toward pregnancy resource centers.
"[A] misconception is that pregnancy resource centers force pregnancy or are a 'fake health clinic,'" she said. "We share with them information on their options. They are free to make their own decisions."
For women who feel that abortion is the only choice, the center also encourages them to express their feelings toward pregnancy to help them navigate different options without imposing judgment.
"We talk with them and try to find out why they feel that abortion is their only option. We encourage them to talk about it and to get the facts regarding the procedure and the ramifications that may follow," Brown said. "Even if they choose abortion, we welcome them back with open arms, to help restore them."
Most women chose to visit Rose of Sharon by word of mouth. While the center has had many names, locations, and volunteers over the course of its existence, Brown said that its mission stays the same.
"We consider our center as a ministry that is led by the Lord," she said. "We also do not use high-pressure tactics to sway women to keep their baby. We share the truth in love, compassion, and with all honesty."
To date, the center has helped more than 25,000 individuals and families navigate their pregnancy and early parenthood.
Southern California has an estimated 69 pregnancy help centers. Many of them often work with other outreaches and ministries when assisting women with parenthood planning—even under extreme cases of sexual exploitation.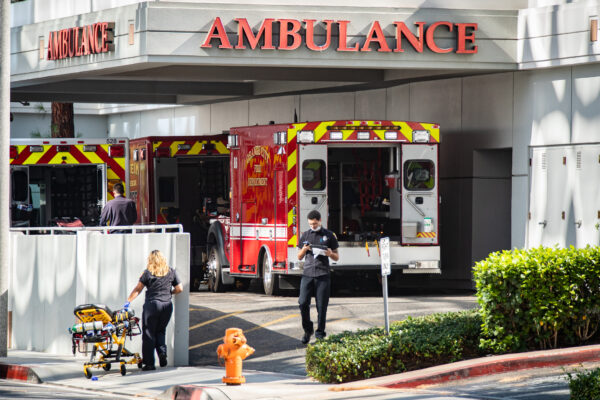 "Every Friday night, our trained volunteers do street outreach in South LA. We go to different 'tracks' [streets where sexually exploited and trafficked women work] to give gift bags to the girls and pray with them," Mari Clark, 31, executive director of After Hours Ministry in Los Angeles, told The Epoch Times. "We build relationships with them so that they know they are loved by God and have friends nearby that can help them with their needs."
At the ministry, women who have contacted the organization's hotline can also receive responses for the help they need—not limited to emergency shelter, rehab or long-term shelter, building a job resume, therapy, babysitting during state-certified classes, or just meeting with an After Hours friend up for a free meal.
While there are days when the ministry receives no calls, sometimes, many people call in a single day.
"Individual needs are widespread, so we try our best to meet them, from providing diapers to connecting with a shelter or program," Clark said.
Primarily serving the South-Central area of Los Angeles, she and her team start their nights at 11 p.m. and often encounter women who are being pimped and trafficked for sex clients throughout Southern California.
"Women know that we are here to help when they get pregnant or when they have the baby and need resources," Clark said.
The ministry partners with Claris Health, a women's health clinic, to make medical services available for free for the women it helps.
In the past decade, the West Los Angeles-based clinic has aided more than 13,000 women and families seeking affordable assistance, some of whom have been connected to its services through the work of the ministry.
"Our ministry is not about numbers, but about people," Clark said. "In the darkness, under the right circumstances, pregnancy can be the light that shines on the possibility of a better future."

Some pregnancy help centers are specialized in handling specific pregnancy circumstances, including those involving underage girls.
In Orange County, one such center acts as a shelter that gives pregnant girls in the foster care system the support they need to keep their children and also raise them—while they finish high school, learn life skills, apply for jobs, and cook in a home-style group setting.
"Staff is available 24/7 to run the house and help with the babies or any other needs the girls have," former shelter worker Emily told The Epoch Times.
Emily—who declined to provide her last name in order to keep information about the shelter confidential—said it's one of the very few group homes in California that offer girls in foster care the opportunities and assistance they need during pregnancy and after childbirth.
The girls arrive at the shelter for reasons ranging from a lack of reproductive knowledge to abusive situations that led to their pregnancies within the foster care system.
"Each girl had her own reason for choosing to keep her baby, but often it was a reaction to what had been done to them in their own life," Emily said. "Some girls told me they were choosing to be different from their mothers who left them to be hurt by strangers, and some girls had no biological family.
"This was the first opportunity they had to have family who loved them and wanted them."
But, according to Emily, the group home environment can present psychological challenges for the girls, who have to take care of their children and work through past traumas while being asked to follow government regulations at the facility.
"Safety rules that protect the group home from lawsuits can put unrealistic expectations on new moms," Emily said. "They have to follow government regulations that can make the girls feel like they are in prison, and they aren't able to parent with the freedom and flexibility of someone in their own home."
Though the shelter was able to take in funding from the state's foster care program, it still requires other sources of income, mostly donations, to stay afloat, Emily said. Volunteers also help make mentoring, activities, baby showers, birthday parties, and special outings possible.
With assistance and access to excellent health care constantly available during their pregnancies, Emily said, the girls slowly develop a passion and love for the life growing within their bodies.
"The personhood of their baby mattered to them, and it was hard not to see the correlation between [how they care for their babies and] how they had experienced first-hand what it was to not be seen as a valuable person," she said. "I was in multiple situations where a doctor or another adult would refer to a pregnant girl's fetus, and they would be immediately [and] forcefully corrected by the girl, 'it's a baby and its name is …'"

For almost two years, Emily's late nights with the girls and long hours with the team allowed her to develop confidence in the positive effects created by the shelter and similar facilities.
"The group home is not an ideal solution for the situation, but they are an organization working hard to make good options for these girls," she said. "They are the people you never hear about, who quietly support nonprofits like the group home to allow the girls the opportunity to be supported when they choose life, and to set them up with every opportunity for a successful future."
Emily also recalled the time when a family member who founded a pregnancy help center was shopping in a store and was approached by a woman who insisted that she be introduced to someone.
The woman then called over a beautiful teenager and said to her while pointing at the founder, "This woman saved your life."
The teen was the woman's daughter.
"She helped me," the mother said, "in a time when I was so scared and alone."
Between 2016 and 2020, pregnancy help centers saved 828,131 children in the United States from abortion by helping women and their families navigate pregnancy, through medical, financial, counsel, coaching, and evaluation support services, according to the Charlotte Lozier Research Institute.