A Reddit/Imgur user apparently got an invoice from his mother for a year's worth of payments related to his food, cleaning, and rent.
The user, Chalipo, is a full-time student who spent the previous 13 months living with his mother. His mother apparently wasn't happy with his seemingly ungrateful attitude and sent him an invoice for $39,000.
What's more, she charged him $1,000 for "being an [expletive] and not appreciating your mother's support financially or otherwise."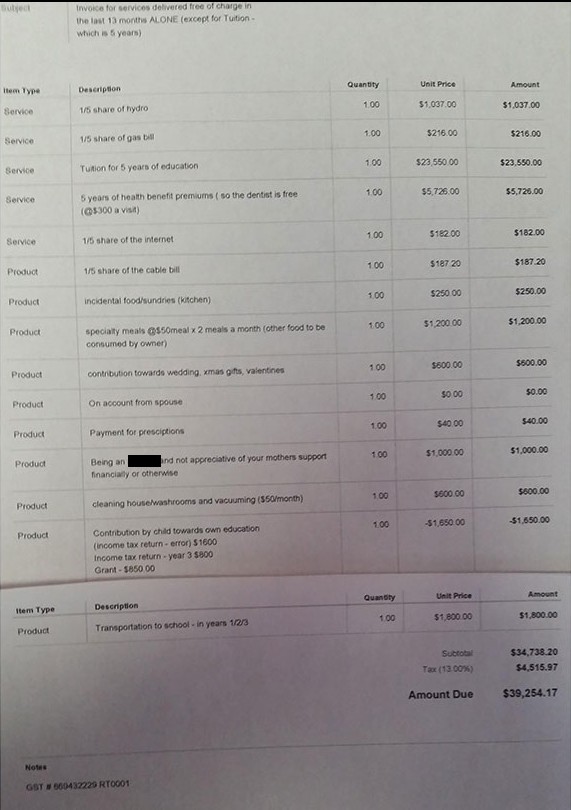 "This was a very effective parenting technique and it has helped me to realize what an entitled little [expletive] I have been," he wrote in the comments section. "I hope to one day be successful enough to support my family and repay her, but she doesn't expect me to."
He added: "My grandparents charged my mom interest on her school tuition. I am very appreciative and grateful that she didn't include any interest."
And later, he stated: "I still work part time. I intern a couple nights a week and go to school full time. When I am not in school I am working full time."
Chalipo also indicated that he is from Ontario, Canada.
The mother, who was not identified, explained why she did it.
"This was done in 5 minutes of anger," she explained, according to GoodToKnow. "He is lucky and doesn't realize it."