A scorching heat wave has blanketed China, resulting in at least two people dying of heat stroke and pushing the electricity load to all-time highs. Authorities in manufacturing centers have also begun restricting power consumption for some factories.
As of July 12, heat waves have affected more than 900 million residents, according to the country's national climate center. As many as 71 weather stations reported temperatures that surpassed all-time records, it stated.
By June 13, a total of 86 cities had issued red alerts, the highest warning in the three-tier system, which indicates that the temperature will top out at no lower than 40 degrees Celsius (104 degrees Fahrenheit).
The heatwave has turned deadly recently, with many people being hospitalized for heat stroke and at least two deaths being reported in southern and eastern China.
A 49-year-old male worker died on July 8 after he fainted during work, according to The Paper, a state-backed media outlet. His body temperature was 40.7 degrees C (104.7 degrees F) when he was admitted to the hospital, the report states. The man was from the coastal province of Zhejiang, which neighbors Shanghai.
Another fatality related to the high temperatures was reported in Sichuan Province.
The hot weather coincided with mass testing for COVID-19 in several districts in Shanghai, adding to heat woes for both residents and health workers wearing protective suits.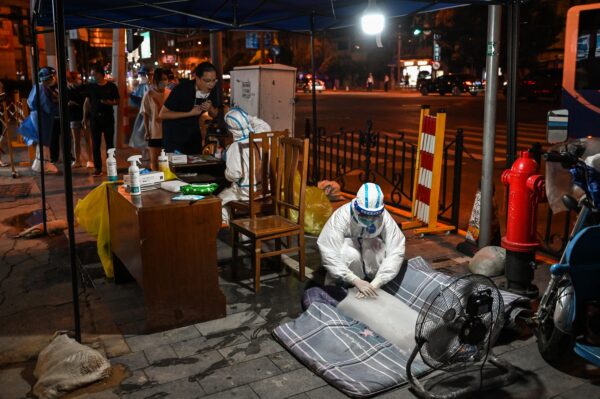 The commercial center declared a red alert on July 14, the third such alert this week. The city of 25 million people had only issued 17 such warnings since record-keeping began in 1873.
Surging Power Consumption
As temperatures climbed, demand for power rose as homes and businesses cranked up air conditioning, adding strain to the grid. China's maximum power load hit an all-time high of 1.22 billion kilowatts on July 12, the National Development and Reform Commission said on July 14.
Zhejiang's provincial energy bureau and state grid called on companies, factories, and residents on July 12 to save power after record-high electricity consumption was reported.
At least two polyester factories in the manufacturing hub of Zhejiang have been ordered to curtail their power consumption starting from July 12, with one stating that the restriction would be in place until the end of August, according to South China Morning Post.
The surging power consumption came several months after the country emerged from a widespread power crunch. The energy crisis—caused by the shortage of coal—has disrupted the lives of tens of millions, forced factories to reduce production or even shut down, and affected supply chains.
The heatwave, which descended on the country earlier than usual this year, is expected to last for another two weeks.
Reuters contributed to the report.