Record Blizzard Slams Northern China
November 13, 2012 6:59 pm Last Updated: October 1, 2015 11:52 am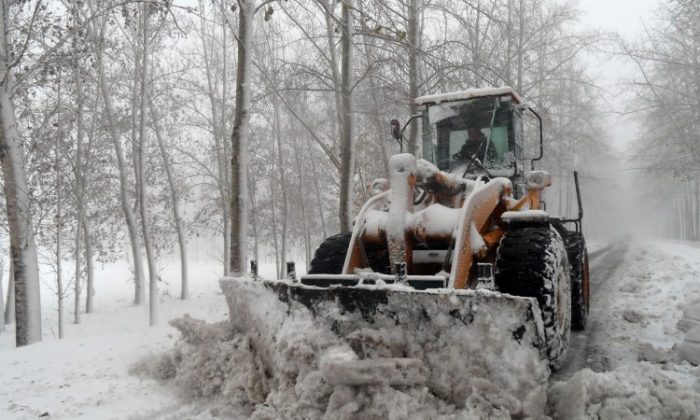 A record-breaking blizzard is wreaking havoc on large parts of China's northeastern Heilongjiang, Jilin and Inner Mongolia provinces. It is unclear if there were any deaths or injuries, but there was widespread damage.
Over the past several days, a blizzard hit much of northern China, snarling public transportation, cutting power, and left people stranded.
The snowstorm damaged 23 power grid lines, causing blackouts while the blizzard cut off water supplies and shut down heating systems in Heilongjiang Province, Jilin Province, and Inner Mongolia. Numerous highways, schools, and airports were closed in the region, it was reported by local media.
Blizzard-affected residents were caught by surprise, prompting them to buy and hoard large quantities of bread, cakes, canned food, drinking water, candles, and other items as a precaution.
The city of Hegang in Heilongjiang was hit hardest and was covered with thick snow, paralyzing traffic and public transportation.
The blizzard began Nov. 11, with extensive damage done to Heilongjiang's power grid, telecommunications, and water lines, the report said. Numerous residents in the province were without heat and more than 45,000 broadband subscribers were affected.
With public transportation out of whack, Hegang taxi drivers nearly doubled their fare from six yuan ($1) to 10 yuan ($1.60), while longer distances increased to 30 yuan ($4.80), the report said.
The state-run China Daily reported that without power and transportation, people were forced to use candles and walk to and from their destinations.
Snow levels reached as high as 55 millimeters (21.65 inches) in parts of Heilongjiang on Tuesday, breaking the all-time record set a half-century earlier, according to the Hegang municipal propaganda department.
Kang Chuanguo, the owner of a large greenhouse operation in Hegang told the China Daily that at least 40,000 yuan ($6,400) was done in damages to his greenhouses and other property during the blizzard.
"I've rarely experienced the kind of blizzard we're seeing now," he said, adding that snowstorms are common in northern China, but not on this scale.
State media reported that at least 173 houses were destroyed in the blizzard and a total of 12.3 million yuan ($200,000) in damage was done across Hegang.
The blizzard hit Inner Mongolia on Nov. 9, rendering many areas of the autonomous prefecture completely inaccessible. Long-distance transportation and two local airports were shuttered, leaving outside visitors stranded.
The dairy industry in Inner Mongolia, located on the border with Russia and Mongolia, was also severely affected and equipment was damaged.
There were reports that the blizzard hit the northwestern portion of the Xinjiang region in China, but it appears that most of the damage was done in Heilongjiang.
The Epoch Times publishes in 35 countries and in 19 languages. Subscribe to our e-newsletter.