A record number of people illegally crossed the English Channel on Saturday, according to Home Office figures, with at least 828 making the journey from France across the busy shipping lane in 30 small boats.
Despite government promises to stem the flow of boats, which are often overloaded semi-rigid inflatables, this summer the numbers continue to eclipse those of previous years.
The latest figures, released on Aug. 23, show more than 12,400 people have now crossed the Channel from France this year. The total was 8,417 for the whole of last year.
Before 2018, the crossing accounted for a tiny proportion of illegal immigration with only a few known to make it each year.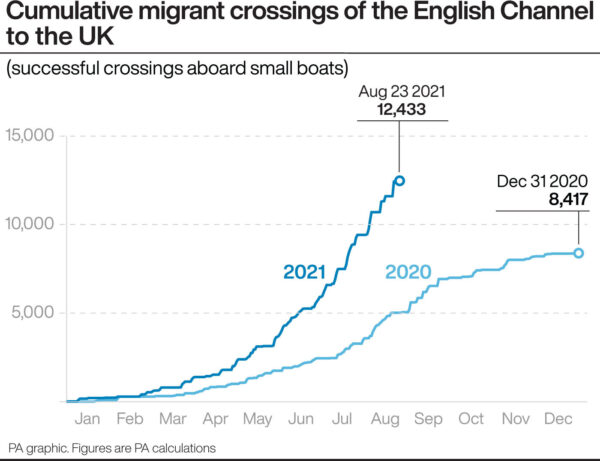 Dan O'Mahoney, the Home Office's clandestine channel threat commander, said: "These dangerous crossings from safe EU countries are completely unnecessary and we are determined to take down the evil criminal gangs behind them.
"We're working across government as well as with French and international partners to tackle this issue.
"We have doubled the number of police officers on French beaches, prevented more than 10,000 attempts, secured nearly 300 arrests and 65 prosecutions."
The number of people attempting the crossing started to increase from the winter of 2018. That year 299 people made the crossing, according to Home Office figures.
The English Channel, which is 21 miles across at the narrowest point, is one of the busiest shipping lanes in the world.
In the last two or three years, several people have died attempting to cross.
Earlier this month, a 27-year-old man from Eritrea died after he and four others jumped overboard as their boat started to sink in the English Channel.
Among those who have perished in its waters are Rasoul Iran-Nejad and his wife Shiva Mohammad Panahi, who died along with their three children when their boat capsized on Oct. 27 2020.
According to the Home Office, last year, when migration dropped due to pandemic restrictions, "known illegal entry" to the UK as a whole was around 16,000 people.
There is a lack of precise information on levels of what might be categorized as illegal immigration into the UK, in part because the definition of "illegal" immigration is hard to pin down and is subject to different interpretations and uses.
A report by the London School of Economics in 2007 (pdf) estimated the number of "irregular" migrants living in the UK was 533,000—a little under 1 percent of the population.
PA contributed to this report.