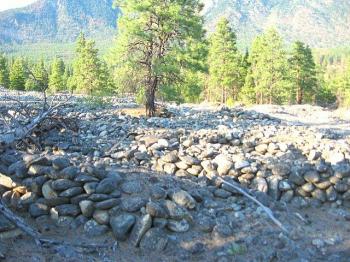 Bill Chu is a man on a mission. He wants the Chinese pioneers who toiled to build the Canadian Pacific Railway—and often died in the process—to be recognized for their part in building Canada.
To that end, Chu, who came to Canada from Hong Kong in 1974, has been lobbying the British Columbia government to protect Chinese historical sites and build a pioneers' memorial museum.
He says the lack of documentation of the long history of Chinese in B.C. has led to Chinese-Canadians being viewed as "newcomers" and "perpetual immigrants."
"Right now if you try to find the history of the Chinese in B.C., you wouldn't be able to find it as far as the school curriculum goes, and yet we have been here in big numbers and contributed hugely to the prosperity of this province."
Chu points out that B.C. would not be part of Canada today if the CPR hadn't been built. Back in the 1860s, the promise of a rail line linking the west coast with the rest of Canada put a stop to a threat by B.C. to join the United States.
History has it that Sir John A. Macdonald, the first prime minister of Canada, stated that without Chinese labour there would be no railway. Subsequently, between 1881 and 1885 more than 17,000 Chinese arrived in Canada.

At the height of the railroad building activity in B.C., approximately 9,000 workers were Chinese. The toughest and most hazardous construction was in the mountains and canyons, where many workers perished and whose graves remain.
Founder of Canadians For Reconciliation (CFC), Chu began making trips to the B.C. Interior after learning from his aboriginal contacts of the existence of historic sites in the Fraser Canyon.
"After six trips we learned many stories about Chinese-aboriginal relationship and have rediscovered many former mining, railway, camping and burial sites used by Chinese pioneers," says Chu, a retired professional engineer.
Chu says there was a lot of intermarriage between aboriginals and Chinese, and that the aboriginals showed the pioneers—who for the most part were extremely poor—how to survive the harsh conditions of the B.C. wilderness.
Mindful of the shared "dark history" of discrimination against both Chinese pioneers and aboriginals, Chu has formed strong ties with First Nations communities. Last week he spoke on this issue at the Union of B.C. Indian Chiefs' (UBCIC) annual convention, unusual in that the formal event is normally closed to non-aboriginals.
UBCIC supports CFC's effort to locate and protect the Chinese historic sites, many of which have already been destroyed by highway and railroad construction and the passage of time. Chu says that because Chinese were not allowed to be buried in the same graveyards as Caucasians, their graves are scattered all over.
If the historical sites were preserved they could contribute to the economically-depressed Fraser Canyon as a tourist draw, he says.
"In Australia, New Zealand, and California they have preserved and updated their old Chinese mine sites and they became public parks and attractions. So other countries are way ahead of us."
A large Chinese cemetery dating back to 1860 was recently discovered in New Westminster, bringing to a halt plans to build a middle school on that spot. New Westminster was once home to a thriving Chinatown. There are also sites on Vancouver Island and Texada Island, which at one time also had a large Chinatown.
Aside from railroad construction, the Chinese were involved in mining, logging, fishing, farming, and building infrastructure in many parts of the province.
"You name it we have been doing it," says Chu. "We did all the dirty work so to speak for the province, and then lo and behold what happened? They introduced the Chinese exclusion act in 1923 and that lasted until 1947."
Although they risked their lives to build the railroad, after it was completed the Chinese were no longer wanted in Canada. It was a difficult period for Chinese immigrants who had to contend with the head tax, job discrimination, and personal attacks.
Chu laments that during the celebrations for B.C.'s 150th birthday throughout 2008, neither the racism the Chinese experienced nor the full contributions of the pioneers were acknowledged.
As well as the building of a museum, CFC wants the history of the pioneers added to the school curriculum. They also hope the provincial government will impose a moratorium on development that may infringe on any sites and begin preserving those sites.
Premier Gordon Campbell said back in November that he supports protecting the sites. Chu says prompt action is crucial to prevent further damage from development, vandalism, or erosion.
Locating, identifying and documenting the sites "takes a lot of work and energy," he says, adding that he believes it's a task in which all Canadians should participate.
"The onus is really to be placed upon all British Columbians and Canadians, because we are talking about not only Chinese history—we're talking about Canadian history."