The signature deadline for recalling Gov. Gavin Newsom has passed, and campaign members voiced optimism as the last petitions were turned in.
Members of the Recall Gavin 2020 campaign submitted nearly 22,000 signatures March 17 at the Orange County Registrar of Voters office in Santa Ana.
"Today is a historic day," volunteer Sky Jones of Yorba Linda told The Epoch Times. "We're turning in the last signatures, and I want everyone to see this."
The effort to recall Newsom was launched last June after some took issue with the state's handling of the CCP virus pandemic.
Campaign organizers have said they collected more than 2.1 million signatures from 58 counties, surpassing the nearly 1.5 million verified signatures needed to trigger an election.
If enough signatures are verified, the recall election will take place within 60 to 80 days of the signature verification.
Government Overreach?
Jones said she began supporting the recall initiative last summer after witnessing what she said has been an overreach of the governor's power.
"We are one of the last states to open," she said. "Other states have been open; people have been going to school, eating out. Why is California one of the last states to open?"
Mercedes DeLeon, from Riverside, said she has been working independently to collect recall signatures since last June.
"I'm very proud of what I witnessed out on the streets and the thousands of people that I spoke to," DeLeon told The Epoch Times.
"My rights were being infringed on and countless others, millions of Californians were put out of business. We're talking about able-bodied healthy Americans were put out of business over nonsense."
She said she was outraged by Newsom's violation of his own policies, when he was caught dining at an upscale restaurant, French Laundry, during a time when Napa County was on lockdown.
"He is doing things he told us not to do, and recommended that we shouldn't do, but did it himself," she said.
"If you're not going to fulfill your position, and you're abusing power, then you're going to lose your position and you're going to lose the privilege of serving 'We the People.'"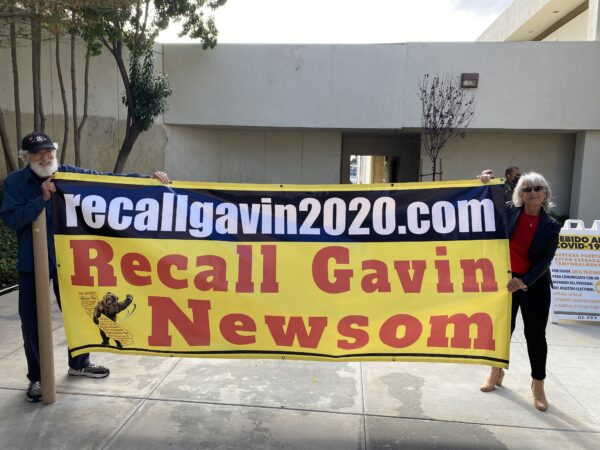 Government Accountability
Sam Hunt, of Costa Mesa, was wearing a shirt that read "Even My Cat Hates Gavin Newsom."
Hunt named a list of issues he took with Newsom ranging from the passing of AB5—which eliminates contract workers and makes them employees for many professions—to spending billions of dollars on masks made in China that were delayed.
"He's a horrible governor," Hunt said. "He needs to be held accountable for this stuff."
Hunt joined the Recall Gavin 2020 campaign since the petition was available in June.
Lorrie Bayer, of Fountain Valley, said she became involved with the recall efforts because of school closures.
"I have nine beautiful grandchildren, all ages 12 down to three," Bayer told The Epoch Times. "We need to stand up and do something for our children, and we need to do something about our schools.
"Shutting the schools down is absolutely absurd."
Stella Song, of Fountain Valley, is the current regional coordinator for Recall Gavin 2020.
"When I heard that Orange County was going to start [the latest effort], I just jumped right on," Song told The Epoch Times.
Song migrated from Singapore more than 40 years ago, at a time when she said California was a different place.
"This was a golden state, but it's now a homeless state," she said.
Next Steps
Song said the recall is setting a precedent for residents in other states to take their power back.
"California is setting a pace in a sense that other states are thinking, 'Wow, we can do it too,'" she said. "This is becoming a trickling effect, and it's causing a lot of people to wake up and really know what's happening."
Though the signature collection efforts are over, Song said this is just the beginning.
"We are not resting; we are just getting rejuvenated for the next chapter," she said. "Because we need to fight. We need to mobilize our people and get people informed and aware and how they can get involved. Otherwise, we won't have a country anymore."