Should NYC Rebuild Post-Sandy Waterfront?
Mayoral candidates discuss
April 9, 2013 4:58 pm Last Updated: April 25, 2013 8:19 am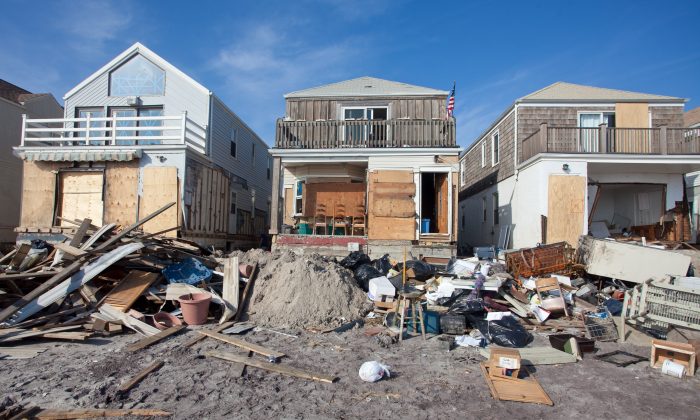 NEW YORK—Six of the candidates to replace Mayor Michael Bloomberg debated policies relating to the waterfront on April 9, such as one of the most pressing issues—whether to rebuild waterfront areas after Hurricane Sandy's devastating impact.
Bloomberg has said New Yorkers need to rebuild while others, such as Columbia University professor Klaus Jacob, have advocated retreating from the water.
All six candidates on Tuesday said the city should not be afraid to rebuild or build in undeveloped areas next to the water.
"We clearly got the most significant message we could get—that we are a waterfront city–this past fall with Hurricane Sandy, and we need to recognize that rebuilding and re-envisioning our city in a climate change world is the most important infrastructure project of our time," said City Council Speaker Christine Quinn, according to Yahoo!
Plans for constructing sea walls or other permanent barriers haven't officially moved forward, though the city recently released a several hundred page document outlining preliminary plans for storm protection.
One of the main subjects was enabling the Metrocard, usable on the city's subways and buses, on the city's ferries, while expanding the ferry system. A temporary ferry between the storm struck Rockaway peninsula in Queens and Manhattan recently got funding from the federal government, and the East River ferry, moving between Brooklyn, Queens, and Manhattan, has been deemed successful by the city after starting about a year and a half ago.
Adolfo Carrion, former Bronx Borough president, lives on City Island. He said there should be "many other ferry stops around the city," including on City Island, according to Capital New York.
Although the East River Ferry ($4 a ticket), the free Staten Island ferry, and the recently extended Rockaway Ferry ($2 a ticket) are all subsidized, Quinn said she supports expanding the system.
"There is no mass transit that is free to put out or develop," she said.
John Catsimatidis, who owns the Gristedes supermarket chain and is running as a Republican, said he would develop a new city department dedicated to the waterfront.
And Democrat Bill de Blasio, current public advocate, said Hurricane Sandy gave officials a chance to use the waterfront for expanded transportation. "There's an opening here that we have a chance to act on," he said.
The other candidates there were William Thompson, former comptroller, and John Liu, the embattled current comptroller.
Christopher Ward, chairman of the Metropolitan Waterfront Alliance, moderated the forum. The alliance speaks for more than 630 organizations with ties to the region's waterways, and is working to make them clean and accessible areas.
"Making the city's shoreline more resilient is the most pressing issue of our time," said Roland Lewis, the alliance's president, in a statement.