Rebellion to Skip ALMS Races Except Petit Le Mans
July 23, 2013 8:28 am Last Updated: July 23, 2013 9:40 am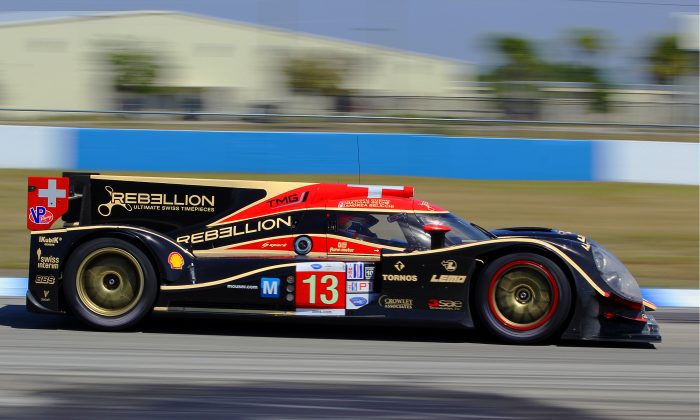 Rebellion Racing, which had already announced its withdrawal from most of the remaining scheduled 2013 American Le Mans Series races, had decided not to compete in any ALMS events except the series finale Petit Le Mans, according to a team press release.
Rebellion has opted to focus in developing its 2014 car, curtailing its 2013 racing operations both in the U.S. and in Europe.
"We've been having a great battle with the other P1 cars in the ALMS and our next race there was going to be at Road America, but our future is to continue racing in LMP1 in 2014 and beyond, and we have to make sure that we give that project the right amount of focus," team manger Bart Hayden said in the press release.
"I know that a lot of people and fans will be sad with the news that we won't be back in the ALMS until Road-Atlanta. It's was not an easy decision to take for us to scale down our racing program in the ALMS as we love racing in the USA.
"The investment to design and build a new car is significant and racing at the same time as you're making that investment is a big commitment."
Rebellion Racing, which since 2011 has operated a highly successful privateer LMP1 team in the Intercontinental Le Mans Cup and the World Endurance Championship, brought its pair of Toyota-powered Lola coupes to America in 2012 to race in, and win, ALMS's Petit Le Mans.
After that victory, Rebellion said that it would be fielding two teams in 2013, one in ALMS and one in WEC.
However, in June the team announced that it would be partnering with car constructor Oreca to design and build a brand new 2014-spec LMP1 car, the R-One. The demands of this project necessitated curtailing its ALMS plans, Hayden told Speed.com. Rebellion would only enter the events at Road America, Circuit of the Americas, and Petit Le Mans at Road Atlanta.
As of now, Rebellion will be entering one car at Petit Le Mans, while cutting backs its WEC entry from two cars to one (which had been the plan since January, not a reaction to the 2014 plans.)
Rebellion was the top-finishing privateer in the ILMC in 2011, and won the WEC privateer cup in 2012. The team also beat the ALMS regulars at the 1000-mile Petit Le Mans in 2012.
Rebellion is second in points in the ALMS in 2013, and has a healthy lead in the WEC, with five races remaining. The team's chief WEC rival Strakka Racing, has withdrawn from the rest of the WEC season to focus on its 2014 plans.