Reality Show Producers Want Pay for Overtime Work
November 19, 2013 5:32 am Last Updated: November 20, 2013 9:55 pm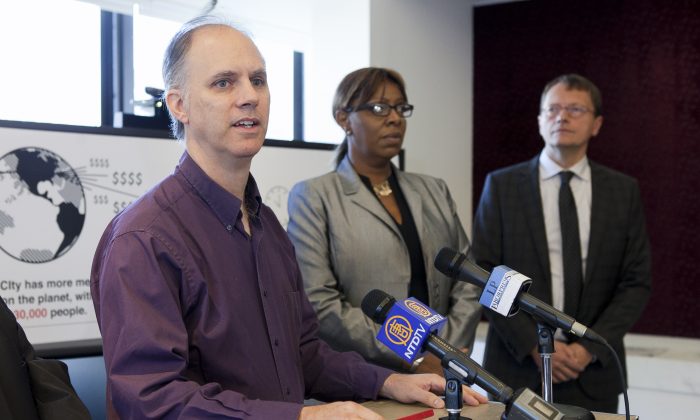 NEW YORK—While creating millions in revenue, reality television is costing some disillusioned producers their sanity. Some reality television producers in New York City said they put in dozens of hours in overtime but are not compensated for it.
The reality of nonfiction television is that most of the shows require scripts, but producers are usually tasked with the writing. People in the industry coined a term for the job, "preditor," a show producer who is also an editor.
In a recent survey by the Writers Guild of America, over 84 percent of some 1,300 reality television producers work more than 40 hours per week every week. Half of the participants said they have occasionally worked 80-hour weeks.
"It's not a sustainable model," Lowell Peterson, the executive director of the Writer's Guild of America East, said at the organization's headquarters in Lower Manhattan.
Peterson provided suggestions for networks in the survey, like signing collective bargaining agreements with employees and agreeing to reasonable budgets and production schedules.
Congressman Jerrold Nadler said that reality television production companies operate like sweatshops. Public Advocate-elect Letitia James said that producers are victims of wage theft.
Reality of Reality Television
Longtime reality television producer David Van Taylor said that reality show production has changed drastically since he first started in 1988.
"Everything is expected to be faster and cheaper," Van Taylor said.
Producers have been fearful of speaking out about their treatment because of potential pressure from employers.
Lauren Veloski is a freelance story producer who has worked on over a dozen shows in the past decade, including some for big networks like Bravo and MTV. She said that in some companies she works 15 to 16 hour days.
"My hiring contract says 'I understand that a typical work day for a show is 12 hours'" she said. The companies where she had to sign such a contract then required her to fill out a time sheet stating she worked from 10 to 6. If she filled it out differently she was told she did it wrong.
Work in nonfiction television is in demand making it attractive but at the same time competitive.
"It's clear, going in, that you're replaceable," Veloski said.
Veloski said the nature of reality show producing is demanding with fluctuating hours and tight deadlines, but the networks go so far as to exploit the producers and their passion for the work. There is a gray area when it comes to some companies, which offer days off during the week for crews who worked on Saturdays.
According to Annie Wong, a producer, Hollywood fiction writers get different treatment: residuals, which means that each time a show plays, the writers and producers get paid. "We don't see any of that, once it leaves our hands, we're done," Wong said.
Wong's credits include episodes in shows like "Frontline," "Disappeared," and "Invitation to World Literature," among others.
NBC and Discovery Network could not be reached for comment by press deadline.