Real-Life Martial Arts Masters Demonstrate Their Craft
September 25, 2013 9:59 am Last Updated: November 21, 2013 4:21 pm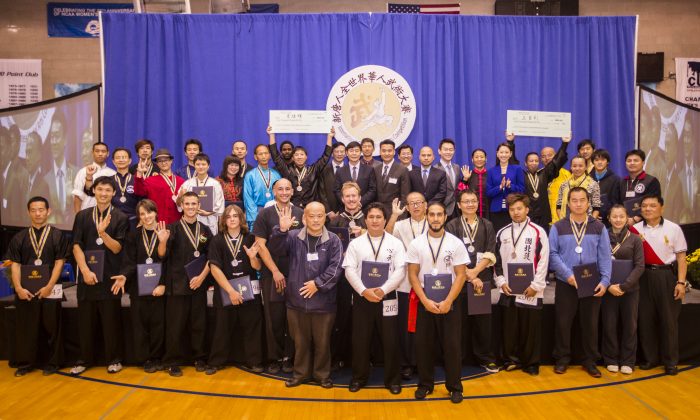 NEW YORK—For all its deadly power, Chinese martial arts has long been considered akin to dance. In fact, the Chinese words for dance and martial arts are homophones because the two were born of the same roots. Dance used with force becomes combat; combat slowed down becomes dance.
This connection was evident at the fourth New Tang Dynasty (NTD) Television's Chinese Martial Arts Competition. During the competition at Baruch College on Sept. 21 and 23, martial artists from all over the world demonstrated the best of their respective schools. In their three-minute routines they balanced slow and fast, strength and grace, while incorporating the classic movements of their chosen forms. 
The challenge of performing a two- to three-minute routine is to show how the system looks, to distill the essence of a particular martial art form into one set of movements.
The mission of the competition is to promote traditional Chinese culture and provide an arena for practitioners of traditional Chinese martial arts to display martial arts values, according to the competition website. 
Chinese martial arts is steeped in Taoist philosophy. Its practitioners are expected to value virtue, respect others, and believe in the principle of karmic retribution. 
"Martial virtue is the virtue of not bullying the good and not fearing the evil," wrote head judge Li Youfu in his 2008 essay "On Martial Virtue."
Li said that all 50 contestants in this year's competition have high martial virtue, adding that he believes this competition can help raise society's moral standard.
Chinese martial arts is a diverse system that includes dozens of schools categorized broadly as either external or internal depending on the focus of the practice, and as Northern or Southern style depending on the school's geographical origin.
A weapons category is included in this competition. Contestants entered with staffs, spears, swords, and exotic-looking weapons such as the swallow board, which looks like giant razor blades strapped to the forearms.
Contestants are scored on their performance according to the characteristics of his or her chosen martial arts style.
This year, two men tied for the gold award: Wang Baili of the United States for his Plum Praying Mantis and Li Xianghui from China for his Taiji Plum Praying Mantis. 
"They do very pure traditional systems," said judge Yang Longfei of the two gold winners. 
Wang Baili, now 50 years old, is an eighth-generation martial artist. His elders' requirements for him were very strict. At age 8, he was made to practice the horse stance, which requires squatting with the thighs in a straight line for a set duration. He practiced this for three years before he was allowed to officially begin his martial arts training.
"If you can't bear this suffering and make the effort, you'll just be practicing the surface movements," Wang said.
Judge Yang said of Wang, "Master Wang was very good on foot and hand technique. His power is supplied on time, he harmonizes, and the power comes out very smoothly."
Yang himself has been practicing martial arts since the age of 6, and has trained for over 30 years. He's taught martial arts in South Africa, China, and the United States. 
Silver winner in the women's weapons category Wen Ching Ni from Taiwan entered with a Kun Wu sword, which has a double edge and can accommodate a variety of techniques. The footwork required for the Kun Wu sword is quick, steady, and agile. 
To achieve this, one's heart must be calm, she said. 
"Many masters have very steady qi when they practice martial arts. Their steps are very stable," she said. "This is something young people should emulate; young people are more fickle, after all."
Epoch Times staff members Wang Yilan and Cai Rong contributed to this report.