There is a "real danger" that schools could remain closed into the summer due to a failure of planning, the UK Children's Commissioner has warned.
"Unfortunately it is a lot easier to close schools than to reopen them," commissioner Anne Longfield wrote in the Roadmap to Reopening Schools report published on Jan. 26.
"Everyone recognizes the necessity of reopening schools as soon as possible, but hope alone will not make it happen," she wrote. "What is lacking is a clear roadmap towards this. There is a real danger that schools will remain closed until Easter at the earliest, or even into the summer—not because the virus makes this inevitable, but because of a lack of planning."
With the official death toll from the CCP (Chinese Communist Party) virus, commonly known as the novel coronavirus, in the UK passing the 100,000 mark on Tuesday, and with current deaths the highest per capita in the world, the government has come under pressure for past and present handling of the pandemic.
In the meantime, the government is under pressure from some quarters, including a group of backbench Tory MPs, to provide a route out of lockdown, with opening schools as the top priority.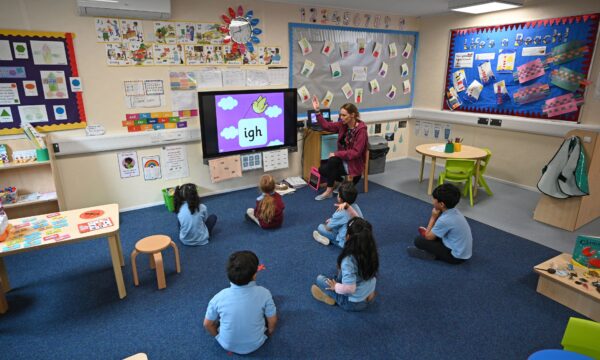 Longfield set out various options for the government to use as roadmap to re-opening.
Her suggestions include: opening some classes with half-sizes; a staggered return of different year groups; opening secondary schools later, but giving priority to exam years; and alternating classes, with pupils in each year group taking turns.
Longfield also said that it may not be possible for all schools to open across the country at the same time. However, she said that the government should set out the criteria and scale of local re-opening. For example, "For each X% reduction in infections or the R rate, a commensurate Y% increase in days attended by younger children (or Z% increase in days attended by older children) becomes possible."
She said that the plan needed to be clear and transparently communicated, saying, "We need to see an end to information being briefed out to weekend newspapers."
Longfield echoed teacher's unions in calling for teachers to be vaccinated. She also said that there needed to be high-frequency lateral flow testing in schools to identify asymptomatic carriers of the virus. The government has already set up a system of bi-weekly testing for those pupils who currently remain at school.
Prime Minister Boris Johnson on Tuesday said that the government would be looking at regional and staggered options.
"We are working as hard as we can to get things open. … We really wanted to keep schools open, and we will want to reopen them, but we must do it in a way that is safe," he said during a Jan. 26 Downing Street briefing.