The White House will not attend the House Judiciary Committee's impeachment hearing starting Dec. 4.
Counsel Pat Cipollone wrote a letter to the committee, headed by Rep. Jerrold Nadler (D-N.Y.), about a week after it was announced his panel would take over the current impeachment inquiry into President Donald Trump.
"This baseless and highly partisan inquiry violates all past historical precedent, basic due process rights, and fundamental fairness," he wrote to Nadler in the defiant letter.
"As for the hearing scheduled for Dec. 4, we cannot fairly be expected to participate in a hearing while the witnesses are yet to be named and while it remains unclear whether the Judiciary Committee will afford the president a fair process through additional hearings," Cipollone remarked. "More importantly, an invitation to an academic discussion with law professors does not begin to provide the president with any semblance of a fair process. Accordingly, under the current circumstances, we do not intend to participate in your Wednesday hearing."
He continued: "When the Judiciary Committee scheduled a similar hearing during the Clinton impeachment process, it allowed those questioning the witnesses two-and-a-half weeks' notice to prepare, and it scheduled the hearing on a date suggested by the president's attorneys. Today, by contrast, you have afforded the president no scheduling input, no meaningful information, and so little time to prepare that you have effectively denied the administration a fair opportunity to participate."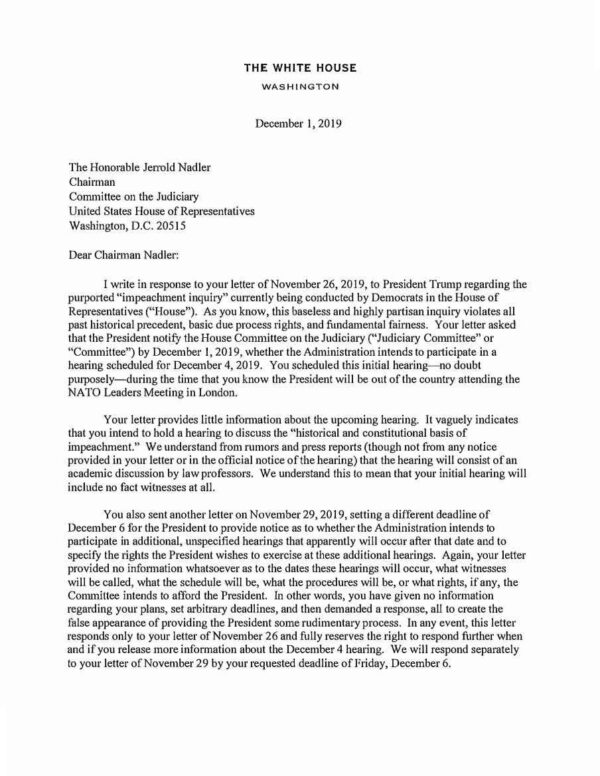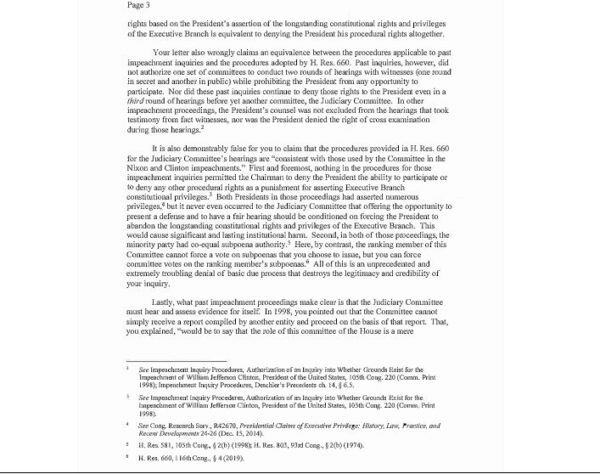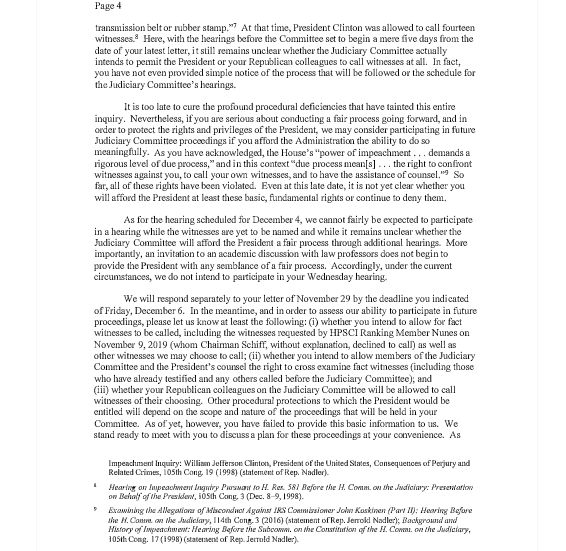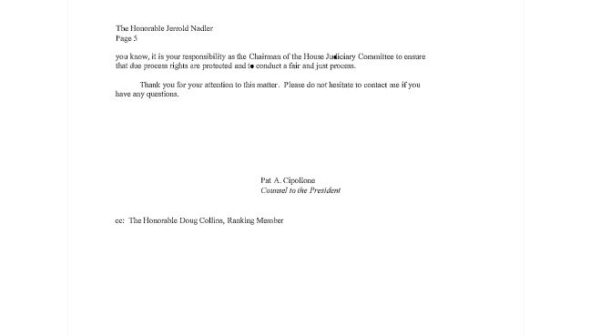 "It is too late to cure the profound procedural deficiencies that have tainted this entire inquiry," he wrote.
Late in November, Nadler issued a letter to the White House, inviting Trump and his counsel to testify in the following weeks of closed-door and public impeachment hearings that were headed by House Intelligence Chairman Adam Schiff (D-N.Y.).
Nadler hasn't yet provided any witnesses that Democrats would like to interview. Rep. Doug Collins (R-Ga.), the ranking Judiciary Committee member, told Fox News on Sunday that he hoped that there would be an equal number of Democratic- and GOP-selected Constitutional scholars.
"This is a failure of the Judiciary Committee to be able to talk to fact witnesses, to be able to talk to the people that have actually been a part of this, and actually have the president viably participate in his own defense—which he's not had the opportunity to do now," he told  "Fox News Sunday."
The House Intelligence Committee is also reportedly expected to vote Tuesday night to formally approve its impeachment report. Reports over the weekend said that Schiff gave the panel 24 hours to make a decision before the vote.