WASHINGTON—President Donald Trump delivered his third State of the Union address on Feb. 4 amid growing partisan tension surrounding the impeachment trial. While Republicans believed the speech was unifying, positive, and forward-looking, Democrats criticized Trump as being divisive and insulting.
Trump started his speech by touting his past achievements, calling them a "great American comeback."
In his address to the joint session of Congress that started at 9 p.m. local time, Trump struck an upbeat note, listing his economic achievements, including record-low unemployment, deregulation, and new trade deals. Similar to his speech to world leaders in Davos, Switzerland, he described the state of the economy as a "blue-collar boom."
"In just three short years, we have shattered the mentality of American decline, and we have rejected the downsizing of America's destiny," he said. "We are moving forward at a pace that was unimaginable just a short time ago, and we are never, ever going back."
The speech, which lasted 82 minutes, offered a preview of Trump's reelection campaign, according to political analysts.
"It's a very well-crafted speech and very positive," said David Pietrusza, political historian and author.
"Because, I think, the audience falls off as people are watching, particularly on the east coast, he frontloads it with his strongest point, the economy," he said. "This is really his best selling point."
Trump's economic pitch, particularly, targeted minority voters—both blacks and Hispanics, he added.
In his speech, Trump listed other initiatives including opportunity zones, border security, energy independence, the space force, and criminal justice reform.
He also touted the killings of ISIS leader Abu Bakr al-Baghdadi and Iranian Gen. Qassem Soleimani by U.S. military forces.
"Our message to the terrorists is clear: You will never escape American justice. If you attack our citizens, you forfeit your life," Trump said.
Trump ended his remarks with an optimistic and forward-looking tone.
"Our spirit is still young, the sun is still rising, God's grace is still shining, and, my fellow Americans, the best is yet to come," he said.
Trump–Pelosi Tension Peaks
The State of the Union address this year was overshadowed by tensions between House Speaker Nancy Pelosi and the president.
Before the speech, Trump appeared to ignore Pelosi's offer of a handshake. Then the speaker left out the customary phrase, "I have the high privilege and distinct honor of" while introducing Trump, instead simply introducing him as "the president of the United States."
In the final moments, Pelosi tore in half a copy of the State of the Union in front of cameras, upsetting Republicans.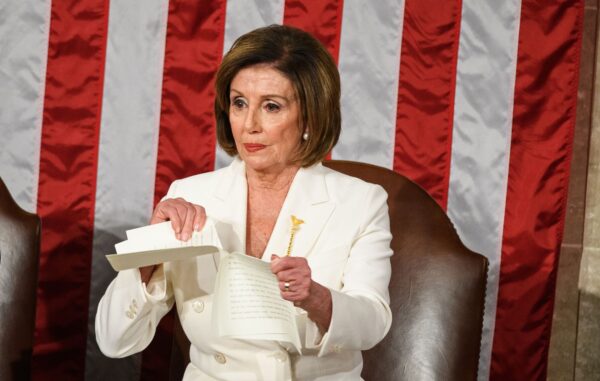 "I think Speaker Pelosi assumed that was the Constitution she was ripping up, because she's been doing that all year long," Rep. Kevin Brady (R-Texas) said, calling her behavior "disrespectful" and "childish."
Rep. Sheila Jackson Lee (D-Texas) came to the defense of Pelosi, calling the clash a "freedom of expression."
"The Speaker handled herself appropriately throughout the president's speech. Whatever freedom of expression she exhibited, she has a right to do," Lee said.
"I would hope that the president could have had an opportunity even in the midst of his impeachment, to heal this nation, to bring us together. The president chose not to do so."
Other Democrats also echoed similar frustration about the president's speech. They also criticized Trump for taking singular credit for all initiatives, like criminal justice reform, energy independence, and the U.S.–Mexico–Canada trade agreement.
"I thought the low point is when he divides people and he picks on people like immigrants or he talks about reforms to the healthcare system as being a socialist takeover," Rep. Raja Krishnamoorthi (D-Ill.) said.
"I don't think that's a good way to go. I think that divides people."
Rep. Marc Veasey (D-Texas) accused Trump of misleading facts about America's energy independence.
During his speech, Trump touted his "bold regulatory reduction campaign" that led the United States to become "the No. 1 producer of oil and natural gas anywhere in the world."
Veasey said that America's energy independence started to happen under then-President Barack Obama.
"He was completely misleading about the fact that he was the person that was the brainchild behind that," he said.
'Reality Show'
This year, Trump had surprises for some of his guests, which turned the State of the Union address into a "reality show" for the first time, according to critics.
"Tonight, we have a very special surprise," Trump said to Amy Williams from Fort Bragg, North Carolina.
"I am thrilled to inform you that your husband is back from deployment [in Afghanistan]. He is here with us tonight, and we couldn't keep him waiting any longer."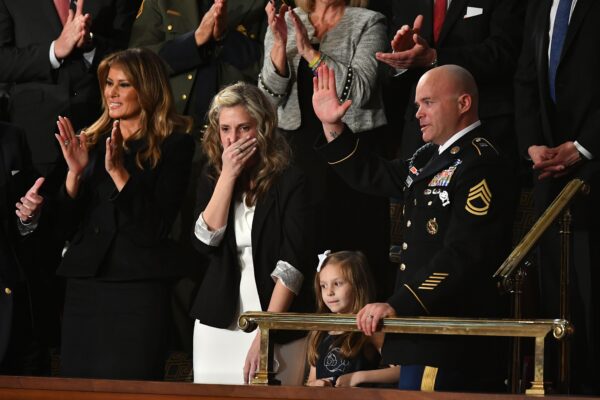 Trump's attack on socialism featured Venezuelan opposition leader Juan Guaidó, who was also the surprise guest at the State of the Union.
"Socialism destroys nations. But always remember: Freedom unifies the soul," Trump said.
During the State of the Union, Trump also offered a scholarship to a fourth-grader from Philadelphia and awarded the Medal of Freedom to conservative radio host Rush Limbaugh, who was diagnosed with advanced lung cancer.
Sen. Shelley Moore Capito of (R-W.Va.) said Trump's speech was positive, forward-looking, and touching.
"I don't know if there was a dry eye" when the soldier was reunited with his family, she said.
Bill Press, political commentator and former chairman of the California Democratic Party, however, said it was an "exploitative manner" to use the people in the gallery.
"I think it was a big TV reality show where the big TV producer Donald Trump, put on a big show, particularly using people in the gallery," he said.
"I was appalled by the State of the Union. We've never seen anything like it before. I don't think it was a real State of the Union address. I can't imagine Thomas Jefferson or George W. Bush or Barack Obama giving a speech like that."
He added that the speech resembled a political campaign rally.
However, Press praised Trump for avoiding mention of impeachment.
Trump's speech came a day before the Senate's vote to acquit him of the impeachment charges brought by House Democrats.
British politician Nigel Farage, one of the attendees of the State of the Union, said what he observed was "an ultra-confident president."
"I mean the way he has united the party around him—given that three years ago, they were very divided over whether they wanted him at all—is impressive," he said.
"People in America are confident. The optimism surveys are off the charts. So, he's in a really good place."