The Royal Canadian Mounted Police are conducting an extensive search in the York Landing area in Manitoba after receiving information about a possible sighting of the two suspects involved in the British Columbia homicide cases.
Responding to a tip that the suspects were seen in the local community, the RCMP sent over a dozen armed police officers with K-9 units, drones, and helicopters to investigate, in hopes of finally capturing Bryer Schmegelsky and Kam McLeod after a week-long countrywide manhunt that drew international attention.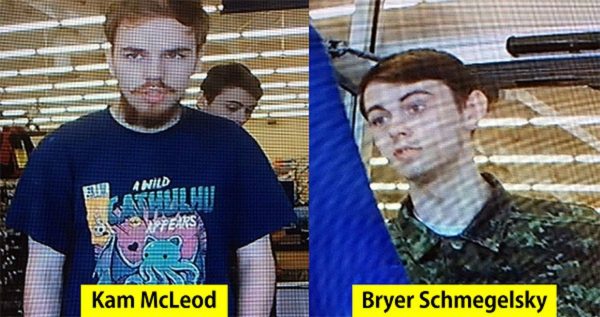 The two young men were initially reported as missing, but later became suspects in the murder of Australian tourist Lucas Fowler and his girlfriend Chynna Deese, who were shot on a highway in British Columbia. Schmegelsky and McLeod were also charged with second-degree murder in the death of UBC professor Leonard Dyck after his body was found near their abandoned vehicle.
The last confirmed sighting of the pair was in the Gillam area on July 22, where the RCMP have since been focusing their search.
All efforts are being made in York Landing to apprehend two individuals matching the description of the suspects. The safety of community members is our priority. We remind residents to stay inside & check all doors & windows to ensure they are closed & locked. #rcmpmb

— RCMP Manitoba (@rcmpmb) July 29, 2019
The witness who reported the sighting to the RCMP is a member of the Bear Clan community patrol group. James Favel, Bear Patrol Inc.'s executive director, said some of the group's patrollers spotted two young men near a dumpster while assisting the police search. The men didn't seem to be carrying any weapons or belongings, but they apparently "bolted" into the trees when they saw the patrollers.
The RCMP touched down in the area following the call and have been sending teams out to search for the two since the tip was received on July 28.
The RCMP said on Twitter that "a heavy police presence can be expected in the area," and warned social media users not to post pictures of officers in the community to avoid exposing their location.
The RCMP also issued a serious alert to residents of York Landing, saying that "it is critical" for everyone to lock doors, stay in their homes, and immediately report any suspicious activities to the police until further updates are given.
"Officers on the ground have not made contact with the individuals, as such, the RCMP is not yet in a position to confirm that these are the wanted suspects," the tweet said. "The goal today remains to safely locate and apprehend the individuals and confirm their identities."
The Royal Canadian Air Force has also been aiding the search efforts.
The RCMP said  that "all required resources" are being used in the high-risk investigation.
Despite reports – there is no one in custody at this time. RCMP officers remain in the community of York Landing & continue to investigate the reported sighting of the two suspects. All required resources are being used in this ongoing investigation. Updates to follow.

— RCMP Manitoba (@rcmpmb) July 29, 2019