Rare Waterspout Phenomenon Appears Over Lake in Jiangsu Province
August 30, 2012 12:16 pm Last Updated: October 1, 2015 12:29 pm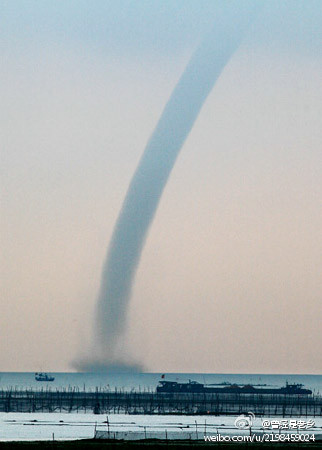 A waterspout, which is a meteorological phenomenon that causes a funnel-shaped cloud to form above a body of water, appeared over the Hongze Lake in Huaian City, Jiangsu Province on Aug. 26. In Chinese culture, the phenomenon is referred to as "a dragon sucking water" because the column shooting from the sky appears as if a dragon from the heavens is collecting water.
At around 5 p.m. on Sunday, a transparent column was seen coming down from the sky, as if a huge water pipe was cast over the Hongze Lake. The lake was calm and the skies were clear, contrasting sharply with the dark clouds surrounding the column. The scene lasted for more than 20 minutes, according to the Jiefang Daily's online news site. Many eyewitnesses also snapped photos of the rare occurrence and uploaded them to the Internet. 
Usually, a waterspout is accompanied with a tornado and heavy rain, but the meteorological department of Hongze County stated that there was no rainfall that day and that the wind power on the lake was around the 6th category, a relatively small figure. The waterspout also did not appear on their radar charts. 
Mr. Liu, who has lived near the lake area for more than 10 years, told Jiefang Daily's website that he has never seen anything like this before. 
Waterspouts have also emerged in other parts of China before. Several days prior, on Aug. 22, four waterspouts appeared one after another over the Nanwan Bay in Beihai City, Guangxi Province. It lasted for about seven minutes. On Sept. 1, 2010, waterspouts appeared twice over the Qinghai Lake, which is situated on the Tibetan Plateau in Qinghai Province, at an elevation of 3,200 meters (10,498 feet) above sea level. The first appeared at 9:59 a.m. and the second at 10:30 a.m.
On Oct. 4, 2009, at 7:30 a.m.,  three waterspouts appeared over the Bohai Sea, a gulf located in northeast China. It sucked up a large volume of sea water into the air and was followed by thunderstorms.   
The waterspout phenomenon has occasionally occurred in other parts of the world. On Aug. 18 this year, nine waterspouts emerged over Lake Michigan in the United States. 
Read the original Chinese article.
The Epoch Times publishes in 35 countries and in 19 languages. Subscribe to our e-newsletter.