Video: Rare Ultima GTR Supercar Spotted Swerving into Traffic in Russia
August 1, 2016 10:10 am Last Updated: August 1, 2016 11:54 am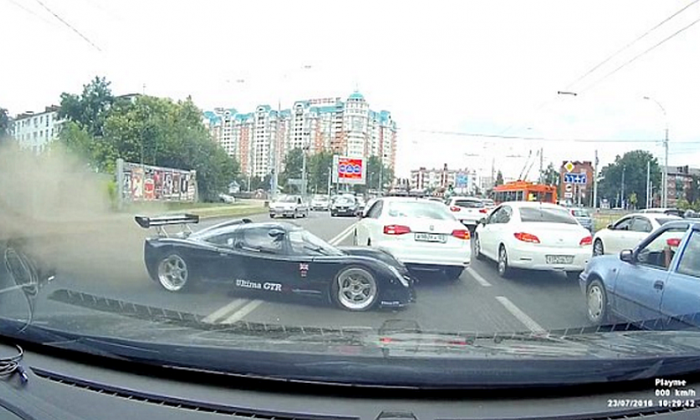 Driving one of the world's fastest supercars in a city can be a dangerous endeavor, a driver in the Russian town of Krasnodar found out recently. 
The driver of a rare British Ultima GTR lost control of the supercar and swerved into oncoming traffic on July 30.
The incident was recorded by a driver's dashcam.
The car, which costs in excess of $100,000 is seen swerving on the other side of the road. It then careens down the side of the road, kicking up a cloud of dirt before it clips the back another vehicle. The fast-accelerating supercar narrowly misses a pedestrian on the sidewalk before it slows down.
The fender-bender involving the rare car took place on Starokubanskaya Street in Krasnodar reported local news site krasnodarmedia.su. "The reason for the accident-the driver lost control during the incident no one was hurt," a local official was quoted as saying by the news website.
Ultima bills its GTR model as "officially the quickest supercar in the world," and it has beat "the likes of the Bugatti Veyron, Ferrari Enzo and McLaren F1 to a plethora of world speed acceleration and deceleration records," according to the car manufacturer's website.
The Ultima GTR holds the Guinness world record for accelerating from 0 to 100 mph and stopping, achieving the feat in 9.4 seconds. It weighs 2,183 pounds and has a 727-horsepower engine.