In amongst the stone statues and manicured lawns of the Museum-Estate Arkhangelskoye, an array of rare vehicles is on display.
The annual Autoculture festival includes different categories: classics, motorsport legends, SUVs, and rare youngtimers, ultra-expensive cars, and spectacular sports cars, which are usually hidden in private collections and restoration workshops.
One of the more unusual-looking cars is the Morgan Three Wheeler owned by Igor Promovendov.
"It was produced from 1909 to 1950, then they stopped production because they switched to cars," he explains. "But since 2011 they have resumed their production and are producing to this day, but, probably, this year they have already sold out."
The festival brings together rare car collectors and general enthusiasts from across the country.
As organizer Filip Fedotov explains, the goal is to build a larger automotive culture in Russia: "In Russia, in the Soviet Union, there has never been a cult of the car, so there was no auto culture as such, and we are now trying to change that, and create at this stage some kind of automobile culture, automobile movement, to make it more of a mass kind of thing," he says.
The annual Club GT Supercar Rally is part of the festival. Crews in Ferraris, Lamborghinis and other sports cars are judged on the accuracy of driving along a certain route.
The event is only in its third year but is rapidly gaining momentum. The last Autoculture festival featured around 80 cars, but this year there are more than 250 participants while visitor numbers have grown from 2,000 to over 10,000 people.
According to the organizers, this is the biggest event of its kind in Russia.
"These aren't just old cars. It is not enough for a car to simply grow old, it is absolutely not enough. Many cars were unique when they were first released. And the fact that 30 and more years later they remained in a good state, that they are still being exploited and so on, this is unique in itself. They are already becoming objects of art," says the founder of the festival Nikita Muranov.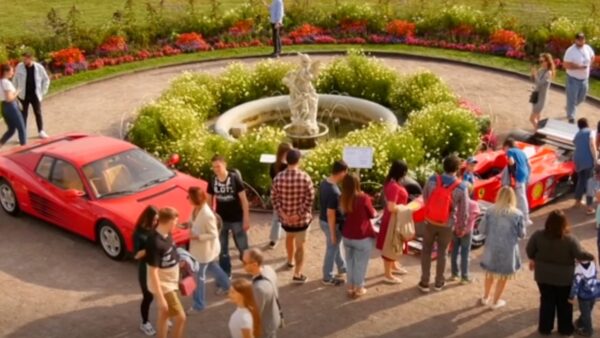 Most of the cars on display are sports models—mainly "youngtimers", that is modern classic cars dating from the 1980s and newer. Separate areas of the grounds are dedicated to the likes of Mercedes, BMW, and Porsche, including this Porsche 911 owned by Arsen Galstyan.
"I bought this car before just for its appearance, I believe that the side silhouette of a 911 model is a standard for a car, for a sports coupe, for me it is the most beautiful silhouette of those cars that money can buy," he says.
He adds that he doesn't like electric cars and finds them "soulless".
"With all this electrification, with this whole story of autopilots and all these other things, you will become not a driver, but an operator. You would just sit down, say a voice command and the car would take you somewhere. How it goes, how it drives you, something else, you will not influence it in any way, you will just sit and look out the window, it would be like an iPhone on wheels," Galstyan says.
But others, such as participant Nikita Sitnikov, recognize there are lots of positives to electric cars:
"Cars are becoming greener, safer, faster and more convenient. But at the same time, I wish to preserve this piece of history, and this piece of history, and remember what we, our grandfathers, and grandmothers drove, and what used to be also very interesting earlier," he says.
One of the highlights of the festival is the award for the most unique car as part of the "Elegance" contest.
The winner is the Ferrari Testarossa, an automotive star of the 1980s.
According to its owner, Maksim Godunov, purchasing the car was the realization of his childhood dream.
"These rising lanterns, some kind of childish delight, and when the opportunity came to buy it for my collection, well, of course, I wanted to buy it," says Godunov.
The museum-estate Arkhangelskoye is hosting the festival for the second time.