Rapid Grassland Growth Reducing Diversity Globally
April 2, 2014 7:41 pm Last Updated: April 2, 2014 7:44 pm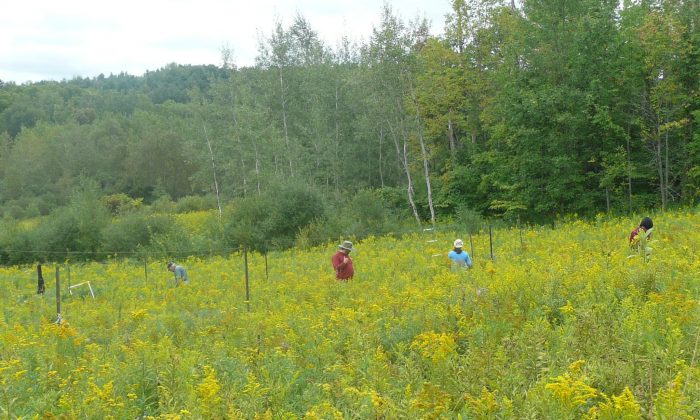 A greater level of fertilization is reducing grassland diversity globally and demonstrates the need for more herbivores to maintain a balance, according to new international research. 
Researchers from a network of universities with 40 sites on six continents found that higher nitrogen levels originating from sources such as vehicles and farming are causing increased growth of certain plants.
"Basically, what is happening is human activity has greatly increased the flow of nutrients in all ecosystems—at least double for nitrogen and phosphorus," explains Eric Seabloom, associate professor in biological studies at the University of Minnesota, which compiled the data. 
"That is like fertilizing your lawn, and so you get more and more material growing."
The problem, the researchers say, is that some plants in the grasslands are experiencing rapid growth causing shade, which reduces the growth of other plants. In locations where herbivores such as sheep and cows were in greater numbers, the diversity of the grasslands increased. The reverse was found in areas with reduced numbers of animals. 
"Plant communities become less diverse and unstable through time. If you think of measuring the yield, it is going to be a lot less variable," said Seabloom. 
"You get a decline in productivity if you have less diversity. As you get more diverse plant communities you get greater diversity of animals."
Grasslands comprise 40 percent of land cover on Earth and play an extremely important role even in cities, according to Elizabeth Borer, an associate professor also at the University of Minnesota. 
"Humans rely on it whether we are in a city or on a farm, and that includes soil conservation, biological diversity, animal habitat, pollination, water treatment, or carbon capture. These are global processes that we rely upon," said Borer. 
"Understanding carbon capture and the role of biodiversity is relevant to just about everyone." 
Two sites included in the Canadian part of the study were an area in Ontario and an island in British Columbia. According to Eric Lind, a post-doctorate at the University of Minnesota who coordinated the research project, it included "examples of commonly grass-dominated habitats across the continent."
Marc Cadotte, TD professor of urban forest conservation and biology at the University of Toronto, noted the importance of grasslands in maintaining ecosystems. 
"Urban areas are important because you are maintaining a lot of green area in a lot of different states. Outside of urban areas there are several regions of Canada where the grasslands are disproportionately important to maintaining ecosystems," he said.
"Herbivores probably have a strong impact on maintaining diversity. As agriculture and human activity increases the nutrients in the system we should ensure that the herbivores are there."
The results of the study were recently published in the magazine Nature.

Kaven Baker-Voakes is a Freelance Reporter based in Ottawa.