Ralph Lauren and Syneron Candela joined Speedo in cutting ties with U.S. Olympic swimmer Ryan Lochte who was found to have fabricated a story about an armed robbery while in Rio de Janeiro.
"Ralph Lauren continues to proudly sponsor the U.S. Olympic and Paralympic Team and the values that its athletes embody," Corporate Communications Director Lindsay Knoll said in a statement. "Ralph Lauren's endorsement agreement with Ryan Lochte was specifically in support of the Rio 2016 Olympic Games and the company will not be renewing his contract."
Syneron Candela, the parent company of Gentle Hair Removal, also decided to part ways with Lochte.
"Syneron Candela will be ending its partnership with Ryan Lochte. We hold our employees to high standards, and we expect the same of our business partners," Senior Vice President of Media Relations Kim Angelastro said in a statement. "We wish Ryan well on his future endeavors and thank him for the time he spent supporting our brand."
This is the third brand to end its relationship with the six-time Olympic gold medalist.
Speedo also announced on Monday that it would end its partnership deal with the 32-year-old.
"While we have enjoyed a winning relationship with Ryan for over a decade and he has been an important member of the Speedo team, we cannot condone behavior that is counter to the values this brand has long stood for," the company said in a statement. "We appreciate his many achievements and hope he moves forward and learns from this experience."
The swimwear manufacturer and distributor will donate $50,000 of Lochte's fee to Save The Children to benefit children in Brazil.
Related Coverage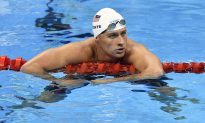 Speedo Drops Ryan Lochte's Sponsorship Over Scandal
"I respect Speedo's decision and am grateful for the opportunities that our partnership has afforded me over the years. I am proud of the accomplishments that we have achieved together," Lochte said in a statement to E! News.
Lochte, who admitted to "exaggerating" the events of Aug. 14 has expressed regret over his "immature behavior."
"I'm sorry if what I did caused any problems in [Brazil]," he said. "I hope that they'll accept my apology because I am truly sorry. I wish I could change it."