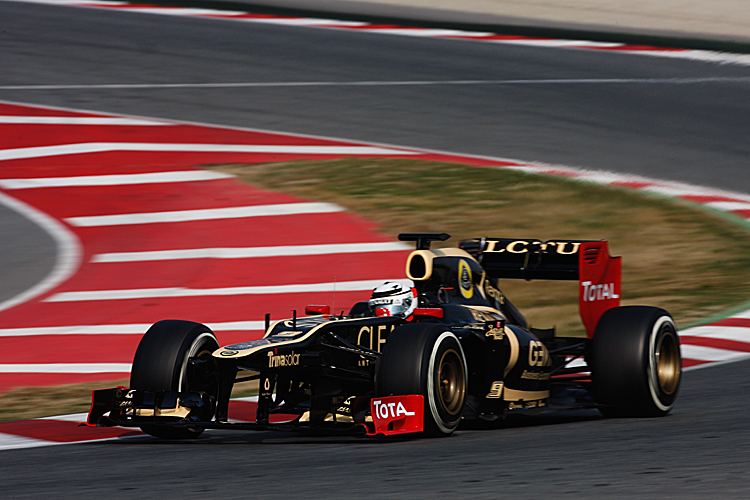 Former World Driving Champions Kimi Räikkönen turned in the fastest time of the final four-day Formula One pre-season test at Barcelona's Catalunya circuit Sunday, lapping in 1:22.030.
Ferrari's Fernando Alonso was second Sunday with a lap of 1:22.250, but Sauber's Sergio Perez beat that on Saturday with a lap of 1:22.094.
In fact, Alonso's Sunday time was fifth over the four-day test; Jenson Button and Toro Rosso rookie Daniel Ricciardo both turned faster laps the day before.
The new Red Bulls couldn't break the top 10 at Barcelona; Mark Webber's best lap of 1:22.662, was 14th best of the test, while Sebastian Vettel's best of 1:23.361 was the slowest of all four sessions.
Räikkönen completed 121 laps in the new Lotus E20, more than any other driver on Sunday.
"I was happy with today's running," Raikkonen told formula1.com. "We didn't have any major issues so it was certainly better than yesterday. Everything worked—we tried a lot of set-ups on the car and it all came together well. It was a long time in the car today but I feel fine. It was cooler today so the tires didn't work as well as otherwise but everything was okay.
"Of course, the fastest time at the end of the day looks good but no one will know how fast any of the cars are until we get to qualifying at Albert Park. All the changes we have made over testing have been improving the car, so we'll have to see what happens in Melbourne in a couple of weeks' time. I'm feeling positive."
McLaren's Lewis Hamilton had his day cut short by an hydraulic leak and also a rain shower which stopped the session early. The team spent the past two days testing a new aerodynamic package developed specifically for the season opener in Melbourne.
In a press release, McLaren claimed that Lewis and the engineering team were happy with the test results and were now focusing on Melbourne.
The Australian Grand Prix starts at 2 a.m. Eastern Time on Sunday, March 18. Tickets are available through formula1.com.